Mobile gaming is now a craze and the higher graphics and optimized versions are increasing interest among people. Some smartphone manufacturing companies already launched gaming smartphones like Razer Phone, Asus ROG, Xiaomi Blackshark, Nubia Red Magic gaming smartphone etc. However, not all of us can afford all of these flagship smartphones for dedicated hardcore gaming. Even if you don't have any latest flagship smartphones like OnePlus 6, Samsung Galaxy S9, or Xiaomi Mi Mix 2S, then the highly-intensive games like PUBG (PlayerUnknown's BattleGrounds) might trouble you all the time while playing. But recently, XDA Developers published a post that One of the XDA member, tsoml, you can Improve FPS in PUBG Mobile through GFX tool.
Please Note: You will need Root access for version 0.7 and we are recommending to root your device using Magisk.
The XDA Developers has already been tested this tool on the OnePlus 3 and the result was optimized up to 60fps approximately from the medium frame rate of 26. The OnePlus 3 is powered by Qualcomm Snapdragon 820 processor along with Adreno 530 GPU.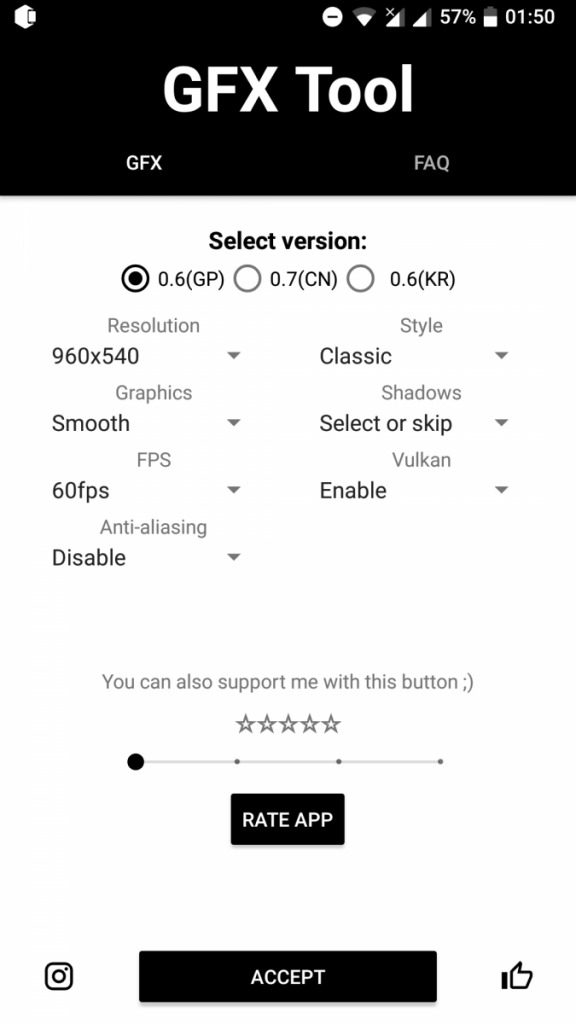 Improve FPS in PUBG Mobile Through GFX Tool
Step 1: Install GFX Tool from Google Play Store via your smartphone.
Step 2: Configure the GFX Tool settings as per details are given below.
Version
At first check your PUBG (PlayerUnknown's BattleGrounds) game version which is installed on your device because if you choose 0.7 version then it will ask for Root access. Otherwise, you can choose 0.6 version as well. In other regions including Korea, the 0.6 version is still latest one.
---
Related: PUBG Arrives on Android in India
---
Resolution
As per XDA Developers, the PUBG game runs smoothly on OnePlus 3 device at 1080×1920 pixels resolution. But you can down it to 540×960 pixels resolution for better rendering.
Graphics Settings
PUBG game settings have some graphics manage option. But you can level up super high fidelity graphics settings from this GFX tool. You can't find these options to PUBG normally. Smooth graphics setting will increase your gameplay timing without any frame rate issue.
Manage FPS
You can manage up to 60fps maximum via this tool. However, if your device is quite capable of handling power then you can set it to 60fps for smoother handling and gameplay. This will also reduce thermal throttling.
Turn Off Anti-Aliasing
You can turn off Anti-Aliasing setting for maximum performance and higher FPS. Otherwise, it will slow down your gameplay.
Classic Style
Style refers to the saturation levels and colors-in-game. Set it to classic for optimal results.
Shadows
This option fully depends on your choice and especially the display quality of your device. Because turn it off will increase your performance and frame rates but visually it takes down the gameplay during object tracking or long-distanced person/aim in the games like PUBG. So, you should leave it to 'skip' to select the system automatically.
Vulkan
Vulkan Graphics API can improve your mobile gaming performance but it requires a fully featured supported device. The latest devices should support Vulkan but if your device can't play PUBG or failed to start the game then you should turn it off and try again and hit accept button to launch the game.
Note: Vulkan option attempting to use on unsupported devices could crash the game during launch. If this happens, then clear the data of the PUBG game from device setting panel and try to re-install it.
Step 3: Launch PUBG game and you're done. After the game launch, you can visibly notice the performance and smoother frame rates due to change in GFX tool. You can also reboot the device after GFX tool setup to make things work properly.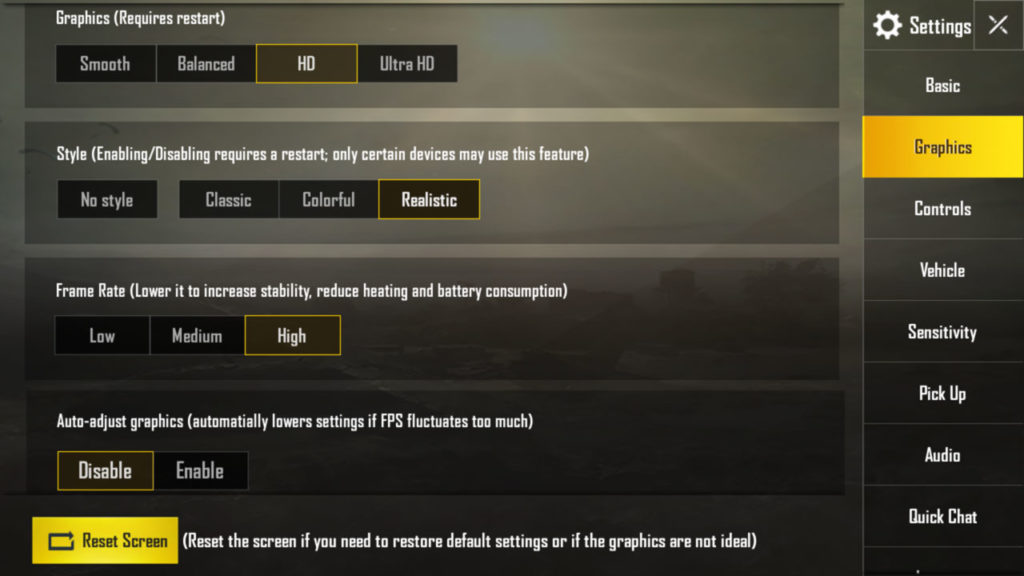 Improve FPS in PUBG Mobile Through Default Game Settings
You can also change to optimal settings from your PUBG game by default.
You can set the graphics to HD or maximum to Ultra HD.
Set Style option to Classic or Realistic for natural colors.
Set Frame Rate to High.
Set Auto-adjust graphics to Disable.
You can reset your screen options to fit the game display.
Change all the basic and controls, sensitivity options as per your requirement.
You can manage all options like Vehicle, Pick-up, audio etc.
This is how you can Improve FPS in PUBG Mobile via normal settings or through GFX tool.