Some of the errors like "Unfortunately, the process com.google.process.gapps has stopped" or "com.google.process.gapps has stopped unexpectedly" enlisted. If you're getting one of the following mentioned errors on your Google Android device, then you're in the right place. These issues are occurring due to some specific reasons. Here in this guide, we will share with you the steps to fix these issues completely.
Steps to fix "process com.google.process.gapps has stopped" issue
Some of the previous generation devices like Samsung Galaxy S6 or HTC One M8 was previously got these types of errors occasionally. But it can arise on any of your Android smartphones whether it's new or old, flagship or budget category. Check out the full guide to know better about the issue and its fixes.
1. Reboot your Device
In most of the cases, restarting your device will fix the issue completely. If your device becomes unresponsive then press and hold the power button for a few seconds and your device will reboot. If the issue not fixed yet, follow the next step.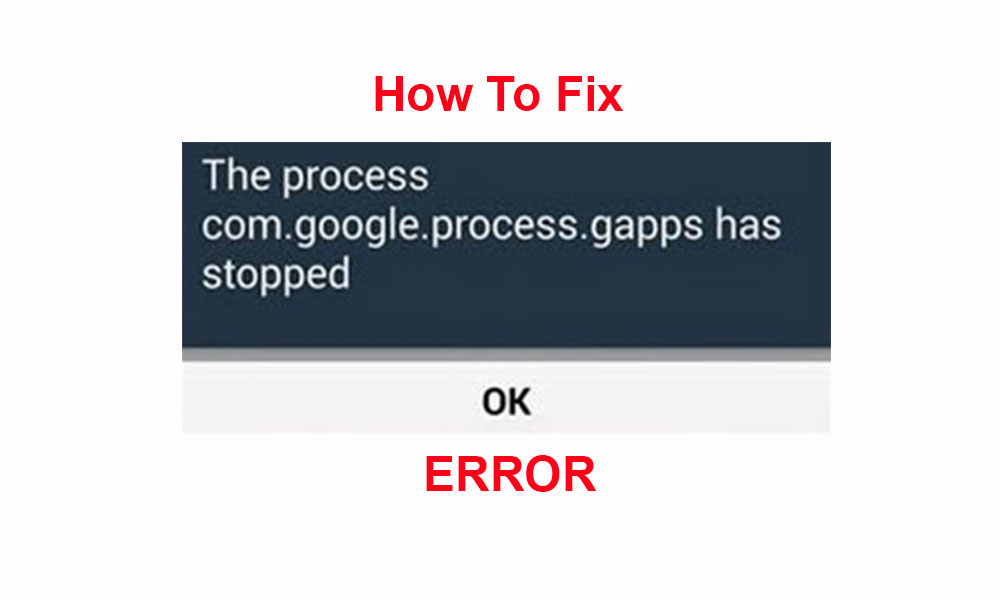 2. Clear App Cache to "process com.google.process.gapps has stopped"
If the error pop-out very frequently then try to clear the app cache which causing the issue.
Go to the phone Settings > Apps and search for the app.
Tap on the app and then tap Storage and select Clear cache.
Next, tap on Clear Storage as well and check whether the issue solved or not.
3. Clear Data of Google Services Framework
If clearing the cache and data for a particular app, doesn't work for you, try to clear data of Google Services Framework as well.
This step will delete your Google Play Services settings. But your Google cache or temporary data will be deleted also. This may fix the issue.
Go to Settings > Apps
Tap on the 3 dots in the upper right corner > select Show system
Search for the apps and select Google Services Framework
Next, go to App info page, tap on Storage, then select Clear cache.
4. Reset App Preferences to fix "process com.google.process.gapps has stopped"
Resetting the device app preferences from the Settings > Apps may solve the error. Try to do this for once.
5. Disable Automatic App Updates
Try to turn off the automatic app updates from the Google Play Store app whenever new update available via Wi-Fi or Mobile Data. Sometimes, after getting an update of an app, may cause this issue. It will also save unnecessary data leakage as well.
Go to the Google Play Store > tap on three bar menu icon from the upper left corner > Settings > Auto-update apps > enable Don't auto-update apps.
6. Perform a Factory Reset
Sometimes, your device saved a lot of cache and temporary files which may cause the device unresponsiveness, performance issue, lags, battery draining issue, etc. By doing the factory reset, your device will work like before. Please Note that factory reset will delete all of your device internal data. So, make sure to take a complete backup at first.
Go to your device Settings > tap on Backup & reset.
Enable the auto backup option.
Select the data backup account (Google account).
Go to the Backup & reset option > tap on Factory data reset.
After resetting your device, your phone will reboot. Now, connect your device to the internet and login with your existing Google ID to get back the data.