How to Unlock Bootloader on Essential Phone, Essential has blown up in market share, thanks to their all-stock experience, paired up with one of the best smartphone cameras available. Both the devices, while don't look the best in terms of build and design, but they easily are the snappiest Android devices available in the market. You can easily Unlock Bootloader On Essential Phone device as well.
Remember, a user must have an unlocked bootloader to flash any custom ROMs on Android devices and then he can install root package via recovery to root the android device. Unlocking Bootloader is the first and most important part of rooting a smartphone.
The Essential Phone (PH-1) has a 5.7-inch IPS screen with 2560×1312 resolution. In addition, Corning Gorilla Glass 5 protection against scratches and bumps. The Essential Phone (PH-1) has 4 GB of RAM and 128 GB for storage of apps, videos, photos and data in general. Completing its technical characteristics, in its gut, we will find a Kryo 280 Qualcomm Snapdragon 835 processor with 4 cores at 2.45 GHz speed. It does not have the possibility of expanding storage via microSD.
You can Unlock Bootloader of your Essential Phone device using some simple ADB and fastboot commands.But this only works on Windows PC or laptops.So make sure you have these things.So now follow this in-depth guide to safely Unlock Bootloader On Essential Phone Devices.
DISCLAIMER
TheDroidGuru.com is not responsible for any damage happened to your device(s) while following this guide, Proceed at your own risk.Please do note that > Unlocking bootloader will void your warranty
PRE-REQUISITES
This guide is for Essential Phone devices.
We recommend to take complete backup and proceed.
Maintain 50-60% battery to prevent sudden shutdown between the process.
Steps To Unlock Bootloader On Essential Phone Devices
PART-1

 Enable "Developer Option", "USB Debugging" and "OEM Unlock" On Essential Phone
Follow the in-depth step by step guide below to safely Enable "Developer Option", "USB Debugging" and "OEM Unlock" On Essential Phone devices
PART-2

 

Setup ADB and Fastboot On Your Windows PC or laptop
PART-3

 

Unlock Bootloader Of Essential Phone Using few Fastboot commands
Step 1. Switch off your Essential Phone and boot into fastboot mode. To do this, hold Volume up + Power at the same time.The phone's screen will show "fastboot" text which means you are in the fastboot mode.
OR
You can Boot your Pixel device into bootloader mode using the following command(after connecting your Pixel to your computer)
adb reboot bootloader
└ You may get a request to authorize USB debugging on the device, accept it.

Step 2. Now open the ADB folder and open the Command prompt there. (shift + right clickanywhere within that folder and select open command prompt here).
 └ ADB File will automatically be created when once you installed the Minimal ADB (In Part2)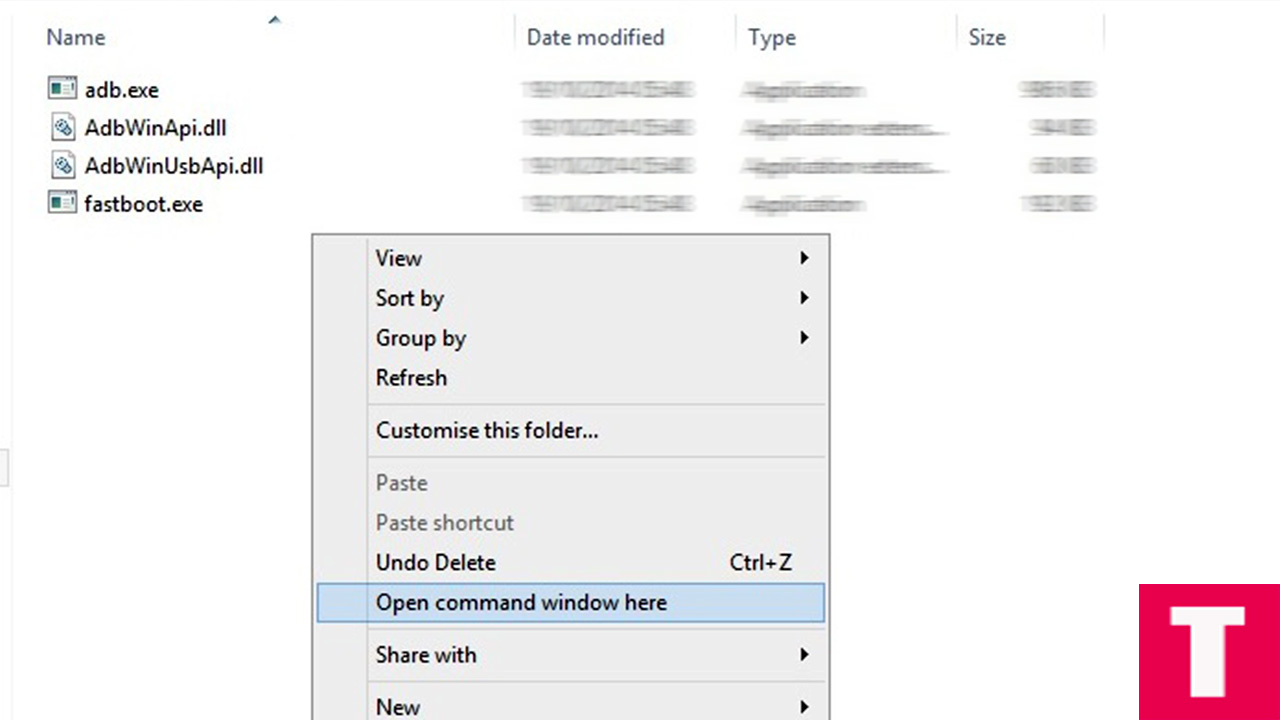 Step 3. Now plug your Pixel into your PC via USB cable and type the following command in the command prompt window

(This command will list the connected devices. If your phone's serial number shows up then your device is properly connected and you are ready to proceed to the next step)
Step 4.If your phone has recognised by the command above, issue the following command to unlock the bootoader

(Remember, all your data will be erased) You will need to confirm this on yoursmartphone too)
Step 5.After the above command has finished executing, run the given command to reboot your device

Done!!! You have successfully unlocked the bootloader of your Essential Phone.
If you have any question or suggestion regarding this post, feel free to post them in the comment section below 🙂