Moto G5 Plus, the mid-range device released by Moto last year at the MWC' 2017 is now getting the April Security Patch, in an OTA update released earlier today.
Featuring a Snapdragon 625 SoC, 5.2 inches Full HD Display (1920 x 1080), the Moto G5 Plus became the best mid-range device earlier last year and blurred the line between the flagship and the mid-range by offering a device that felt a bit premium to hold and had the stellar performance for its price point.
April 2018 Security Patch Update For Moto G5 Plus
The G5 Plus came with stock Android 7.0 Nougat and is scheduled to get an update to Android 8.0 Oreo sometime in the future.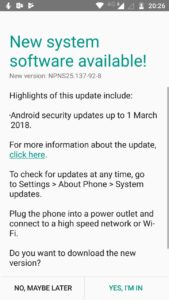 The latest update is another indication regarding the lapses in Moto's update policy which has significantly gone down since its acquisition by Lenovo in 2014.
The April security patch contains among others, fixing of vulnerability in the Android runtime environment, which would have enabled any remote attacker to gain additional permissions by bypassing the user interaction requirements. A vulnerability in the Android framework has also been patched, which would have otherwise enabled any application to bypass the OS protection which isolates any applications data from other application data.
For the complete changelog regarding the April Security Patch, feel free to check the Android Security Bulletin.
The update(NPNS25.137-92-10) is available to download OTA over Wi-Fi or mobile data and has a size of 40.3 MB.
The complete changelog (from Motorola) for the updates reads:
This update introduces changes including the following:
Android Security Updates to 1st April 2018
You may also like:
LG G6 Oreo Update rollout begins
LineageOS 16: Supported Devices and Release Date
Note 9 Firmware release points to an early August release
Samsung A8, A8 Plus, 2017 A5 and J7 and S7/ S7Edge get April security patch
Moto Z Gets Android 9.0 (P) Unofficially
Magisk v16.4 and Magisk Manager 5.7.0 Are Now Available