Lenovo owned Motorola has slashed the price of its mid-series device the Moto G5S. The device is now available for purchase for a price of Rs. 9999 in Fine Gold, Oxford Blue, and Lunar Grey colors. The device can be procured from Amazon.in, Moto Hubs or the retail stores.
The price cut comes when the launch of the Moto G series next lineup of devices, the Moto 6G family is on the horizon with an event scheduled in Brazil on the 19th April.
The Moto G5S was launched in August last year for a price of Rs. 13,999 for the Lunar Grey and Fine Gold version and Rs. 14,999 for the Oxford Blue version.
The Moto G5S, a successor to the Moto G5 has a 5.2-inch FullHD display (1920×1080) with a density of 424ppi along with Gorilla Glass 3. The device is powered by an octa-core Snapdragon 430 chipset clocked at 1.4GHz and comes with 4GB of RAM and 32 GB of internal storage.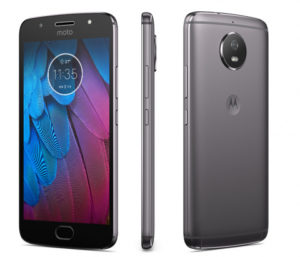 On the imaging angle, the device has a 16- MP, f/2.0 rear sensor with PDAF and a 5MP front- sensor with a f/2.0 wide- angle lens.
A 3,000mAh battery powers the device with support for fast charging, or Turbo Charging as Moto calls is, built in.
On the connectivity angle, the device has support for 4G LTE, GSM/ EDGE, Bluetooth v4.2, GPS, GLONASS.
The software is the biggest advantage that Moto has in this price range, with Nokia being the only other smartphone maker with Stock Android offerings. The device comes with negligible bloatware, there giving it smooth performance even with an outdated chipset from the Snapdragon 400 series. The device comes with Android 7.1 with a guaranteed update to Android 8.0.
The Moto 6G is expected to launch on 19th with an India launch by the end of this month. It would sport an 18:9 display with a Snapdragon 450 chipset powering the device.
You may also like:
J7 Prime 2 launched by Samsung
Speculated S9 Mini visits Geekbench
Motorola Moto E5 Plus with Snapdragon 430 spotted on Geekbench
Motorola Moto G6 with Snapdragon 660 SoC spotted on Geekbench
Nokia X set for 27th April unveil
Moto G6 Series to possibly launch this April 19th