Days after rolling out the security patch for a bunch of devices, HMD Global is rolling out the April Security Patch for the Nokia 5 and the Nokia 6 2017, while Samsung is rolling out the security patch for the unlocked Galaxy S9.
For the Nokia 6, the update comes along with a new Android 8.1 Oreo build V5.600. The same is the case for the Nokia 5 also, which is also getting the v5.6.
In the case of the Samsung Galaxy S9, the update weighs only 60MB, probably Project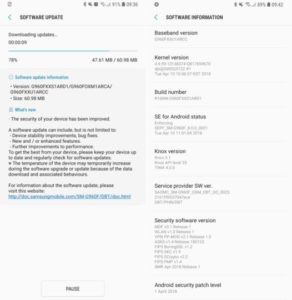 Treble's working. The update fixes eight vulnerabilities affecting Samsung's software and seven critical vulnerabilities in the Android. Currently, the update is only available for the S9 and not for the S9+, though it may be arriving in some days for the latter also. The changelog for the update doesn't contain any extra information, just the version number of the update (G960FXXS1ARD1/ G960FOXM1ARCA/ G960FXXU1ARCC).
The Nokia 6 update is 148.3MB in size and patches among others, the Media framework critical security vulnerability that could enable any remote attacker to execute, within the context of a privileged process, any arbitrary code.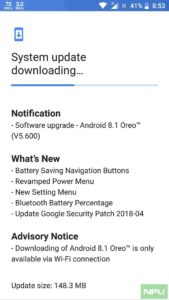 The complete update log reads:
Notification
 Software Upgrade- Android 8.1 Oreo (v5.600)
What's New
Battery saving Navigation Buttons
Revamped Power Menu
New Settings Menu
Bluetooth Battery Percentage
Update Google Security Patch 2018- 04
For the Nokia 5, the size of the update is around 149.6MB and can be downloaded via a Wi-Fi only. The update changelog for the Nokia 5 is similar in context to that of the Nokia 6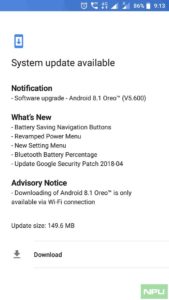 with the same new features.
Notification
Software Upgrade- Android 8.1 Oreo (v5.600)
What's New
Battery saving Navigation Buttons
Revamped Power Menu
New Settings Menu
Bluetooth Battery Percentage
Update Google Security Patch 2018- 04
You may also like:
Note 9 Firmware release points to an early August release
[Android 8.1 Oreo] Lineage OS 15.1 Devices List and Downloads
Samsung A8, A8 Plus, 2017 A5 and J7 and S7/ S7Edge get April security patch
LG sets up Software Upgrade Center
Android 8.0 Oreo is here for the Nokia 3
Nokia 1 and Nokia 8 get April Security Patch
Nokia 6(2018) launched in India at Rs.16,999