How to have constant music identification same as in Google Pixel 2, Do you want to have on your mobile the constant identification of the songs that ring around? Try this trick: very similar to what brings the Pixel 2.
Google presented exclusive software details with its Pixel 2, such as the constant identification of songs. Do you want to have it on your smartphone? Try it with Shazam.
Also Read: Google's latest security patch fixes Bluetooth issues on Android 8 Oreo
One of the functions that caught my attention the Google Pixel 2 was the constant listening of the music that sounds around. Personally, I love to guess all the songs I listen to and, if I like them, write them down to find them directly on Spotify. Although that implies having the mobile to the point with the application of capture, something that is not always possible. So Google hit the spot: Pixel 2 will identify everything that sounds. Whenever you want, of course.
How to have constant music identification same as in Google Pixel 2
Did this "permanent listening to music" also catch your eye? This Google Search feature is not yet available, no one has patched this Google Pixel 2 feature, but it can be closely mimicked by Shazam. This application, one of the best in terms of music identification, offers background identification so you know everything that has sounded.
With Auto Shazam, you can imitate Google Pixel 2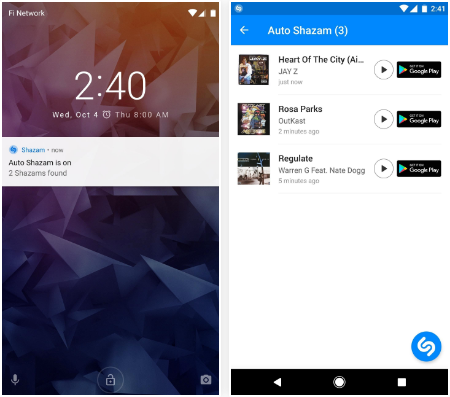 It is a function that already included the identifier of songs, so it is not a novelty. Of course, maybe it happened to me and did not know this curiosity of Shazam. Do you want to try it? Let's see how it is activated.
Install Shazam, open it and scroll to the screen on the left.
Descend and click on the " Auto Shazam " button.
Accept the permission to record audio if you had not already accepted it for Shazam.
The application will listen to all the music to identify it, even if you turn off the screen.
To see all the songs that have sounded you just have to go to Shazam and see the list: they will appear without you having to manually "trigger" the music.
Also Read: How to detect and delete duplicate files on Android
This Shazam option is very similar to the permanent listening of the Google Pixel 2, although the pity is that it does not show the song identified in the lock screen. Another drawback is that it consumes more battery than Google Search's exclusive feature, but it is not overdone. And you will always need to access Shazam to see the entire list of songs. Finally, there is the inconvenience of the loss of privacy, something that must always be stressed. Shazam is Definetly a good app and has been considered by many users so you can definitely check it out here is the link below to Download it From Google Play Store.