How to detect and delete duplicate files on Android, Each time you take more pictures with the mobile and when you edit them to create a new copy, then send it by WhatsApp, they create another copy and thus with all the files multiplying the number of identical copies in your mobile.
Do you know "how to detect and delete those duplicate files on Android"?If you need help regarding this then don't worry we have got you covered.Follow the guide given given below
Also Read: How to use automatic responses in WhatsApp when you are busy
How to detect and delete duplicate files on Android
1:

 

Search and delete duplicate files on Android
Some apps, such as WhatsApp or Telegram, generate their own copies of the files they manage by saving a duplicate of the photos or files you send to the application folders, so that you can have the original photo in your photo gallery and duplicate files of the same photo in each of the applications in which you have used it, either to send it or to edit it.
Having duplicate files on your smartphone has a double negative effect because it makes the management of your files more chaotic and unnecessarily occupies a valuable space in the internal memory of your smartphone. You can avoid it by searching and deleting duplicate files on your mobile.
Fortunately, you will not have to do this by reviewing the folders on your mobile one by one as the Duplicate Files Fixer app will do it for you.
First, download and install the free Duplicate Files Fixer app from Google Play on your Android and start it. This app will analyze the memory of your smartphone and find all the duplicate files on your mobile offering you to delete all those duplicate files quickly and easily.
When you start the app you just have to give permission to access the file folders by clicking you have it and then mark the file types duplicates you want to find and delete, or simply mark Full scan to locate all duplicate files your smartphone.
Once the search option is selected, touch Analyze Now and start searching for duplicate files.
When finished, it will show you the duplicate files grouped according to their match and automatically mark the duplicates leaving only one copy of each file found.
Check all the duplicates found by its necessary to mark or unmark a different file to remove it and click on the option Delete now that appears at the bottom.
This will remove all selected files and free up space on your Android.
2:

 Find duplicate photos or very similar
We have already seen that finding and deleting duplicate files on your Android is not complicated. But what if the photos are the same but the apps have changed the file name or when you have edited them has changed its size?
In that case, it is possible that the previous method will not be able to detect the duplicate photos that you keep in your Android since, to all intents and purposes, it is as if it were a totally different file despite being a duplicate.
For those cases, you can use the Remo Duplicate Photos Remover app. This app is available for free on Google Play and will be very useful to identify those photos that, even under slight variations, could be considered as the same or very similar images.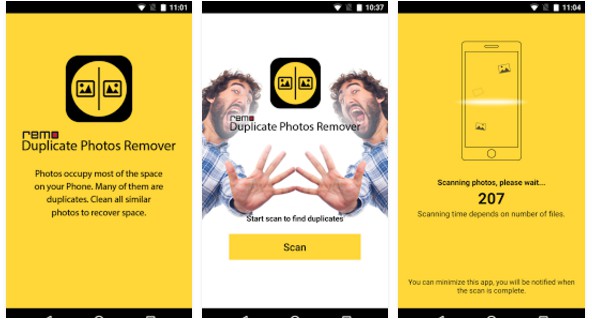 The app is very simple to use and simply start it and click on the Scan button. Next, start analyzing the memory of your Android by looking for similar or duplicate images to remove them.
When you finish your analysis, it shows the results for both images that can be considered identical, which you will find in the Exact tab, as those that have a certain similarity despite not having the same file name or weight, which you will find in the Similar tab.
Go to the Similar section and you will find the photos found grouped in sets according to their similarity.
Touch one of them to see a premium view and decide which one to keep. Check the duplicate photos you want to delete.
Then touch the Delete icon in the lower right corner of the screen and the selected photos will be deleted releasing the space they occupied unnecessarily.
Image Souce: TheTechGears & GooglePlay