Download the LG V30 Floating Bar app on your phone, When LG introduced its latest flagship in the 2014 IFA all were good reviews. The experience of the LG G6 had moved to the V range without mishaps.
However on the way to the V family fell one of its distinctive features down the road, the second screen intended to be a notification center and especially shortcuts to other applications.
The LG V30 is hands down probably the most underrated smartphone of 2017. it packs all the great features like a wide angle camera, Lg new skin and many camera extra manual features such as cine-grade to disclose the color temperature of a smartphone according to ourselves and also the ability to save videos in the log file. But not only in the camera department, it excels but it does perform great in the day to day tasks to Thanks to the new LG Own Skin UI.
And With that LG has really challenged the industry-leading smartphone maker Samsung, Which is also very well known for providing extra gimmicky features. Though LG might not have provided as many features as Samsung whichever it provided are pretty handy in day to day usage which you will be pleased to have it. One of which is the floating bar which we will tell you how to have it in your current android without having root.
The Korean company announced that the LG V30 would have a new feature by software that would emulate that behavior. This floating bar had already been seen on other mobiles, one way or another, but aesthetics and functions were accomplished. Now a developer has created an application that emulates and works on any terminal.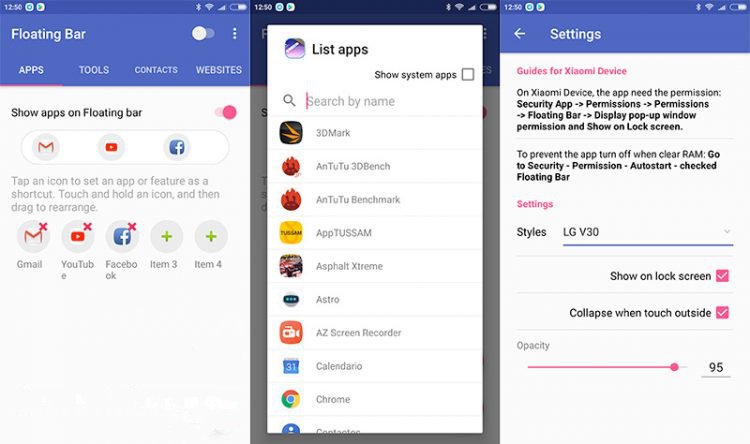 Floating Bar of the LG V30
With a fairly obvious name, we found in the Google Play Store an application that allows us to use these shortcuts easily.
Not only does it leave us access to applications but we also have other bars in which to put contacts or web pages although to unblock them we must make a purchase within the application.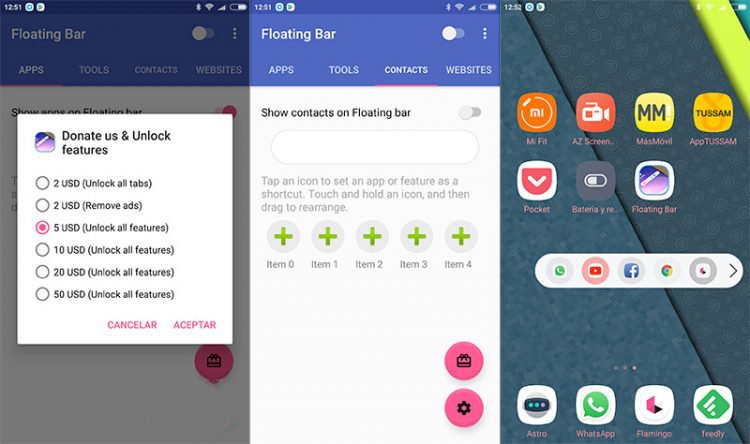 In total there will be four categories (applications, tools, contacts, and links) and each one of them allows up to 5 different accesses. To move from one area to another simply have to make a horizontal sliding gesture.
Although the bar appears natively in the right area of the screen simply by dragging it to the other zone we can anchor it there.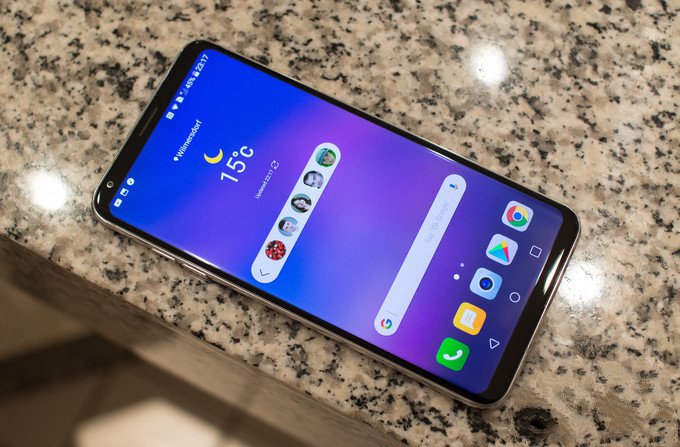 As we say it is a curious application, free, but you need shopping in the application if we want to use its full potential. It is worth trying if we believe that we will use, especially if we have a large mobile or if we use our smartphone with one hand.