All smartphone users know very well that the keyboard app is one of the most important and useful parts. All smartphones come with pre-loaded keyboard app like Android devices come with Google Keyboard (Gboard) app. While the iOS devices do come with the Apple Keyboard app by default. By the help of the keyboard app, we can send the text message, symbols, emojis, stickers, and so on very easily to anyone. While some of the third-party keyboard apps also come with so many built-in features for ease of use. In this post, we will provide you with the 5 Best Keyboard Apps for Android in 2019 which you can use on your Android device very easily.
5 Best Keyboard Apps for Android Devices
For the Android devices, there are thousands of keyboard app available on Play Store. But not all of them are very good and come in handy in terms of usage. Meanwhile, most of them do offer quite interesting and useful features. But you need to think about the keyboard app responsiveness and smoothness as well. So, here is the list of 5 best keyboard apps which you can use on your any Android phone right now.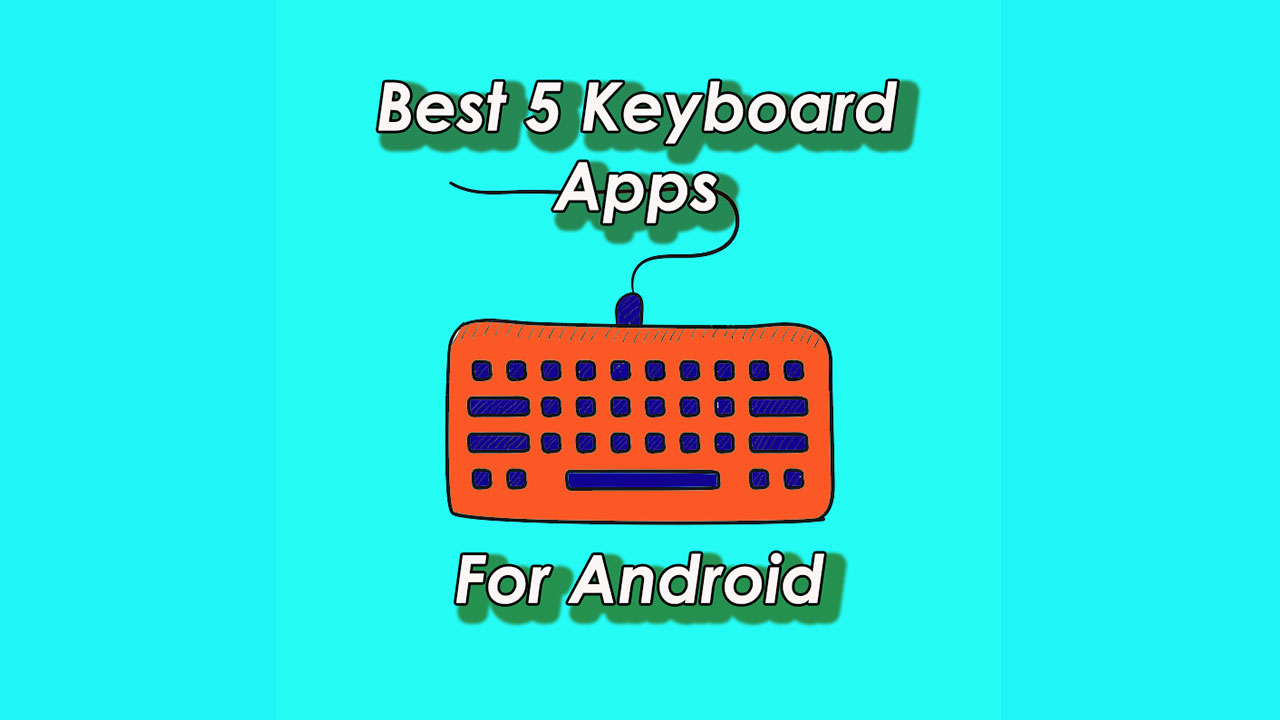 1. Gboard
If you're using an Android device then you obviously using Gboard app (Google Keyboard) for sure without any second thought. This keyboard app comes preloaded with all the global version of Android devices. It's one of the most popular and widely used by Android users in the world. The Gboard app provides swipe gesture type, auto space, auto-correction, search bar, voice search, themes, emoji, gif, settings panel and more. You can easily change the theme, background color, keyboard layout, size, hight etc.
This is the official keyboard app made by Google LLC and has been rated 4.3/5 stars. You can download it from here.
2. Swiftkey
Swiftkey has been a very popular keyboard app for Android for a long. The keyboard app provides so many eye-catching emojis and stickers, swipe back to delete all the text, colorful themes, and layout etc. The intuitive layout and auto prediction makes it beautiful and useful. It does have a custom keyboard, multilingual support, spelling script and more.
The app has been developed by Swiftkey and rated 4.5/5 stars and installed over 100 million times. The app size varies with devices and requires Android 5.0+ version to install. Download it from below.
3. Fleksy Keyboard
The Fleksy keyboard is quite easy to use and flexible just like its name. Fleksy is the fastest keyboard in the world according to the developers. It lets you customize, search, share, and type easily. You can send a bunch of cool and colorful stickers, emojis, GIFs, autocorrect, private keyboard and more. It features a lot of unique themes, swipes back to the left to delete words faster like swiftkey, multilingual support and more.
The app is developed by Thingthing Ltd and rated 4.4/5 stars based on 256K active users. The app has been installed over 5 million times and requires Android 4.1 or above version. You can install this app from here.
4. Chrooma Keyboard
The Chrooma keyboard is one of the best Android keyboards right now. At the time when it was launched, it was very simple and as same as Gboard. But now the app has been optimized and improved in its colorful mode. It's a very fast, lightweight, and adaptive theme color based app. It features RGB theme on a black layout which looks great – all we can say. The built-in smart AI feature gives you a contextual prediction, neural action row, emojis, stickers, GIFs etc.
It also features gestures, colored navbar, multilingual support, one hand mode, split mode and more. The app has been rated 4.3/5 stars and brought you by GameLounge. The keyboard app has been installed over 1 million times, size of 23 MB, and requires Android 5.0+ version. Download and install it from here.
5. TouchPal Keyboard
TouchPal Android keyboard 2019 is a new keyboard with a bunch of fun emojis, auto-correct, predictive text, and gesture typing support. It features fast single-handedly typing by just gesture gliding on the letters. It also protects you from typing errors by the help of smart AI feature. Support multilingual typing, Android Wear and Pad keyboard, built-in themes and more.
The keyboard app has been developed by TouchPal company and has been installed over 10 million times. Requires Android 4.0.3 or higher version, rated 4.3/5 stars, and 39 MB in size.