The best Clash Royale ringtones for your mobile, Customizing a smartphone can be complicated if you pay attention to the fashions that prevail in 2017. You may want to put your mobile with an "eighties" touch or you may want to start applying the best Christmas wallpapers. However, if you are a fan of the SuperCell game, you are already taking some of the best Clash Royale ringtones for your mobile.
On previous occasions, we have already shown you how to install different wallpapers of Clash Royale on your smartphone, but now we are going to finish customizing your smartphone to the point that it looks like a special edition of Super Cell, with its wallpapers, notification tones and Clash Royale ringtones.
Also Read: These are the 7 best soccer games for Android in 2017
The application in question to change the sounds of our smartphones is "Ringtones for Clash Royale". Under this original name, you already know what you can find inside: hundreds of sounds and notifications of the popular SuperCell game to give a more fun touch to your smartphone. To begin, we leave the respective link to download the application, free of charge, on Android.
The best Clash Royale ringtones for your mobile
Ringtones for Clash Royale is a new application that nothing else to access you will find many sounds that can be applied to ringtones, notification or alarm tones on your smartphone. If you really like to play this game of SuperCell you can not miss the opportunity to try the app to customize the phone at your whim.
The application, in addition to letting you set the ringtones and notification to your liking, also allows you to set the duration of them and even install on the desktop of your smartphone a widget with direct access to the funniest sounds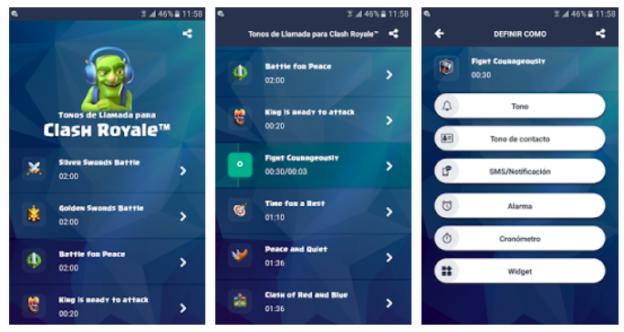 Of course, although this application is dedicated, it is not the only one that allows you to find ringtones and notifications from Clash Royale. Again, as we have done on other occasions, we recommend downloading Zedge and, through your search engine located at the top, enter the search " Clash Royale ". In this way, you will see how thousands of screen backgrounds based on the game appear in front of your eyes as well as different ringtones and notification.