The Nokia smartphones showcased at the MWC' 18 have finally made their way to India. At an event today, HMD Global, the new home of Nokia smartphones have released the new Nokia smartphones in the country.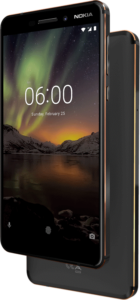 The devices released are the Nokia 6 (2018), the Nokia 7 Plus and the Nokia 8 Sirocco, which after a showcase at MWC are now starting to ship to many countries across the globe.
HMD Global has already released the Nokia 1 in India, another device showcased at MWC' 2018.
This time, it is great to see the timely launch of devices by HMD Global. Last year after a promise of a Q2 announcement, the devices made their way at the mid- of July after a Feb MWC debut, by which time, most of the hype surrounding the Nokia's comeback had died.
Even after that, the company performed impressively and this year it seems they're leveling up their effort to seize a greater market share in one of the, if not the, largest mobile market in the world.
The Nokia 8 Sirocco, the Nokia 7 Plus and the Nokia 6 2018 have been priced at Rs. 49,999, Rs. 25,999 and Rs. 16,999 respectively and all of these devices are powered by the Android One platform by Google, which also had been launched in India.
The company made a formal announcement regarding the launch of the Nokia mobile store also. The devices available on the official store would be having the same price tag as the ones bought from offline sources or other e-commerce websites like Amazon or Flipkart.
On April 6, the Nokia 6 2018 would go on sale and would be available via retail outlets and
Nokia Mobile Store and on 20th April pre-booking would start for the Nokia 7 Plus and the Nokia 8 Sirocco with availability from the 30th April. The former would be sold on Amazon India while the latter would be sold on Flipkart along with Nokia Store and off-line retail store for both.
There was a disappointment owning to the absence of Nokia 8110 revamp, and it is expected that HMD Global may either have a separate event for it or may launch it on-line in some time.
For entire specifications of the device feel free to check our coverage of Nokia's MWC event or the Nokia 6 2018 launch.
Other Top Reads
Android 8.1 rolls out for Nokia 5 and Nokia 6 2017
HTC looks to compete in the budget market with the Desire 12 and 12 Plus