Tima and time again, HMD Global has announced about how it is expecting India to be a key market for it, which would also propel to top ranks in mobile shipment worldwide. Just a few days back, its CEO said that Nokia aims to be among the top 5 in India within a couple of years.
Making further expansions in India, HMD Global has opened its online mobile store in the country, the first worldwide. The website lists a number of feature phones, smartphones along with accessories also. Along with it, they are providing the usual free shipping and a 10-day return policy along with ensuring secure transactions and handling of data.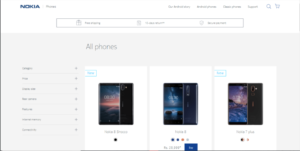 All the Nokia products released by HMD so far are listed on the site, including the recent MWC announcements. Currently, for smartphones, the consumers can order only the Nokia 3, Nokia 5, Nokia 6 and Nokia 8. The MWC devices haven't been launched in the country yet but would be available as soon as next month. In feature phone department, most of the feature phones including, but not limited to, Nokia 3310, Nokia 216, Nokia 150, Nokia 105 are listed. And just like the MWC smartphones, the 8110 4G is only listed, but not available to purchase.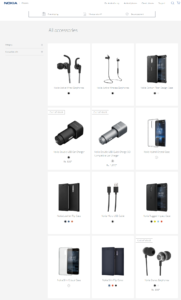 Apart from the phone, the accessories include Nokia Active Wired and Wireless Earphones, Carbon Fiber Design Case, USB-B cable, Stereo earphones, among others. Currently, however, all of the accessories are out of stock.
The Nokia accessories have not received a formal announcement in India yet, however, the listing on the site indicates that HMD would soon make them available in the country, making HMDs entry into that segment also.
Apart from this, the current devices are available on e-commerce platforms like Amazon India and Flipkart also, and it remains to be seen whether Nokia would make its devices exclusive to its website, or use it only to widen the availability of its devices.