Keeping up with their one of the best on the market update strategy, HMD Global is rolling out the August Security Patch for the Nokia 6 and the Nokia 5, the original Nokia smartphones released in 2017.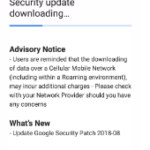 For the Nokia 6, the update is 141.9 MB in size. The official changelog reads that the update contains only the Security Patch and no extra functionality
For the Nokia 5, the update is 148.3 MB in size. In this case, also, the update contains only the Security Patch with no extra improvements or features.
The August Security update contains numerous fixes for critical and high severity vulnerabilities. One of the most prominent of these would have enabled any remote attacker to execute arbitrary code within the context of any privileged process using any specially crafted file.
HMD Global has also announced earlier that the Nokia 5 and the Nokia 6 would be getting the Android 9.0 Pie update also, though they haven't specified anytime line yet, though a rollout by the end of this year can be expected.
The Nokia 6 was the first Android branded Nokia smartphone and also the first Nokia smartphone under its new licensee, HMD Global. It was released in January' 2017 in China and was followed by a global debut at the MWC Barcelona in 2017. The same event saw the introduction of the Nokia 5 also. The devices are stock Android-powered and contain a Qualcomm Snapdragon 430 octa-core SoC for their processing work.
First non- Pixel device to get Android P: The Essential PH- 1
HMD Global schedules event on 21st August, Nokia 6.1 Plus launch possible
Best research paper writing services for top grades
---
HMD Global reportedly working on In-Display Fingerprint Scanner for Nokia A1 Plus
Android 9.0 Pie makes its way to AOSP
Huawei Mate 20 Lite Leaked Specifications
LG G7+ ThinQ vs. OnePlus 6: best phone for enthusiasts