The Facebook-owned Instagram is now a big and popular social media platform all over the world. The social media activist or social media lovers can't miss any single update or notification on Instagram. But all of us have faced one same issue regarding the download any image option. Instagram doesn't allow the users to save or download the images from the posts or stories in a normal way. The system doesn't provide that save image feature. However, some of the images offer bookmark option only, which isn't necessary at all. In this post, we will talk on How to download images from Instagram easily.
How to Save Original Posts, Posted Photos, and Videos on Instagram
Meanwhile, some of the uploaded images seem too rare or memorable or eye-catching to some of the users. So, the users take a screenshot of that image due to lack of download feature. It's worth mentioning that, you can save a copy of own uploaded images and videos directly on Instagram Account from the Settings. In order to do that:
Read More: Instagram is working on Non-SMS Two-Factor Authentication Process against SIM swappers
Open your Instagram app from your device and go to your profile menu.
Now tap on the right upper corner menu > you will find Settings option at the topmost bottom.
Go to "Settings" > scroll down slightly and you will find the "Original Posts" option.
Tap on the Original Posts option > then you will find three more options.
Enable all three options, such as "Save original posts", "Save posted photos", and "Save posted videos".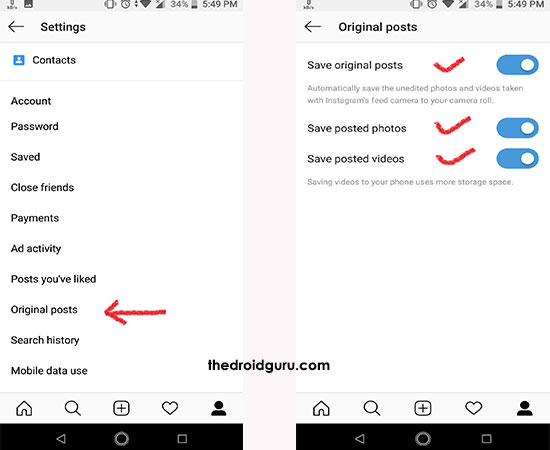 This is how Instagram will automatically save an extra copy of your uploaded photos and videos on your phone. Now let's head over to the main topic.
How to download images from Instagram
But what about the other images which others are sharing every day? You still unable to save other photos. There is a way to do that. It's quite complicated but you can do it successfully.
Open any image which you want to download and tap on the three dots menu from the right side. Choose copy link option and save it on your mail or any other app which can be accessed from a computer. [You can also directly log in to your Instagram account from PC and copy the link as well]
Open the particular Instagram image via that copied link on your PC > right click on the image and choose View Page Source option. [A new page will open with full of codes, don't worry!]
Now search for a meta property called "og:image" from the search bar. [Press Ctrl+F button and type]
That typed property will be shown highlighted mode with a content= line.
Simply copy the line starting from https:// till the end of that complete line. [For example: <meta property=

"og:image"

content="https:// xyz…" />]
It means copy that https part completely which may be quite long.
Now after copied that full line, paste it into your browser URL or open a new tab and paste it.
You will see the full size of that original image > right click on that image again and choose to Save image as… option.
Save that image on your computer and you're done. Enjoy!
Must Read: How to add polls to Instagram Stories
Third Party App/Extension Support: (Google Chrome for PC)
If you find the above trick so hard or time-consuming, you can try another simple way by the help of a third party extension support from Google Chrome Browser. Just follow the steps below:
Open the Google Chrome from your PC/Laptop.
Go to Apps > Web Store from Chrome.
Search for Instagram in the Extensions category and an extension called "App for Instagram".
Just click on the "Add to Chrome" button > confirm > that will be added to your Chrome.
You will find the extension on the top right side of your URL bar. Click on that rounded Instagram icon and log in.
Now you can easily download all of the images from the Home feed with a one-click. (Download icon at the upper right corner of images)
That's so easy. Isn't it!
---
Hope you find this article useful and easy to use. Feel free to comment below about your thoughts. Follow our blog for more these kind of helpful articles in the future.