How to change the Samsung Galaxy Note 8 themes, Android is known for its high customization possibilities. The user can do almost anything they want and change the user interface, but very few of us can really claim that we do a good job designing a respectable home screen. This is why Samsung is making it easier to maintain a unique and aesthetically pleasing user interface, using the Galaxy Note 8 themes for them.
What are themes? these are pre-loaded designs that can change the wallpaper, icons, sounds, AOD (Always On Display) images and much more without the user having to perform complex configurations. Do you want to learn how to install a theme on your Galaxy Note 8? It's simpler than you think.
Also Read: How To Record Slow Motion Video On Samsung Galaxy Note 8
How to change the Samsung Galaxy Note 8 themes
The process is quite simple. In fact, it is not too different to how to do it using smartphones from other brands. The first thing you need to do is to press and hold an empty area inside the Samsung Galaxy Note 8 home screen. Then the whole system to apply themes in the mobile of the Korean firm is most intuitive.
Select the option " Wallpapers and themes " and, logically, then select the "Themes" option in the lower section. Find a topic that you like and download it (eye, some are free, others are paid). At this point, you will find a complete selection of themes. You can navigate using the upper tabs or press the category button in the upper right corner to better classify your options.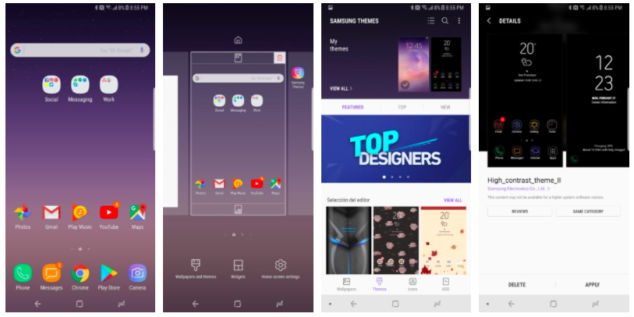 Once downloaded, you can access the theme page and click "Apply". The theme page can be found in the Samsung Themes section or in the "My Page" area. Confirm by clicking "Apply" again and enjoy the new look of your mobile phone.
The great usefulness of the themes of the Samsung Galaxy Note 8, as with other smartphones in the firm's catalog, is that they are still quite flexible when it comes to personalizing all aspects of the terminal. There are themes with live wallpapers, while others change images depending on various factors such as the time of day. And we can not forget the moving 3D wallpapers. In addition, you can configure each of its elements by changing wallpapers, icon packs, widgets, ringtones and more.
Also, Samsung has one of the largest theme stores for any manufacturer so you can explore and lot and get the best of your taste to comply the best appearance of your Samsung galaxy note 8, We personally recommend the dark deep black theme as not only it saves battery of your smartphone but also give the better look to it.