Best Android Remote Control Apps 2017, Our smartphone is the ideal companion for day to day, a device that offers us thousands of possibilities to perform different actions at the same time. Moreover, the mobile phone itself can be the substitute for other devices, such as a remote control for a television or remote control for air conditioning.
As you say? That's right, imagine that you can not find the TV remote control, or you just broke it. It's Sunday, you can not go to buy a spare, so quiet, nothing to worry, your smartphone can be used to change channels, or change the volume level. You only need to meet a requirement, integrate infrared sensor, but if you do not have it, you can get it to include it simply.
Let's see then the best applications of remote control for our Android smartphone, with them we have all the functions to handle our television or any other device that is handled remotely. Let's see them!
Best Android Remote Control Apps 2017
Peel Universal Smart TV Remote
One of the most popular applications in this sector, we can control almost any device in the house, such as televisions, air conditioners, appliances or audio systems, in short, a great variety.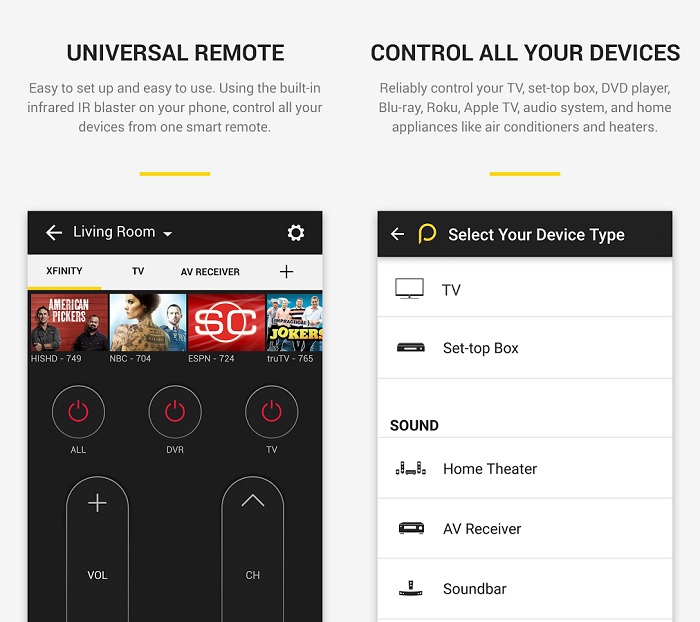 Peel enables You to 
• Use the remote widget on the lock screen to do basic control of TV and Satellite box
• Use the full remote on tapping the yellow bubble
• Tune into your favorite shows / movies by tapping on the show images
• Get a list of shows, games and movies which are 'Trending Now' and you 'Recently Watched Channels' , just tune into those shows by tapping on shows
• Get ribbons of shows of each genre
• Set up reminders to watch your favorite shows /Games / Movies
• Search your favorite shows /sport teams /channels
• Get Notifications on popular sports games, Movie premieres and Show premieres, on tapping them, you will into those shows
• Browse the channel guide and see the schedules of your favorite channels.
• See trailers, highlights, short clips of your favorite shows in the 'Videos' section.
It is very easy to configure, we just have to choose the brand of the device we want to control and in a few seconds, we will be using the smartphone as a remote control. But not only that, we can also add reminders not to miss a program, series or movie. In conclusion, a complete application that can perfectly replace the conventional control.
AnyMote Universal Remote
Another of the most outstanding applications of this category, is that AnyMote Universal Remote has support for more than 900,000 devices, yes, you are reading it well, a real madness. This way it will be difficult not to find our electronic device in it.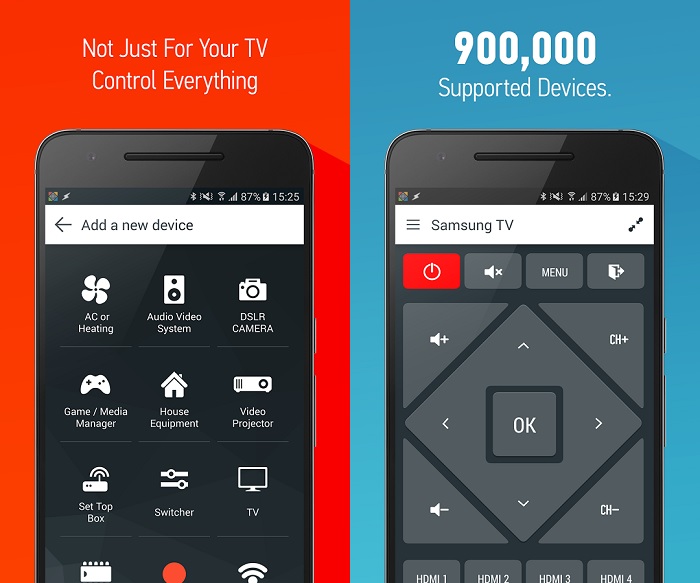 – customize remote by re-arranging buttons, changing colors, positions, text, icons & more
– create macros to execute multiple commands on a single touch
– use automated tasks to execute commands without interaction (like Mute on Call)
– Tasker integration
– voice commands through Google Now
– floating remotes for access even while using other apps
– air gestures (limited to Galaxy S4)
– add one remote, use it for as long as you want
This application allows us to create our own custom configurations, such as scripts that are executed at the touch of a button. We can program the app to turn on our TV, start Netflix or control the lights in the room, come, a complete service that has two variants, one free and one with more features that costs 7.99 euros.
SURE Universal Remote
Another application that works exactly the same, this time it is SURE Universal Remote, a service that also offers the possibility to control appliances, air conditioners or televisions with our smartphone.
If you are looking for a remote control for your Samsung or LG Smart TV, Roku TV, Kodi and other smart media devices then SURE Universal™ is your all-in-one solution. New version with Amazon Alexa functionality!
A very interesting tool is the one that allows us to transmit local files to other devices, for example, send content to our mobile or vice versa. The rest is very similar to the others, we can configure the interface of what is being the remote, with the ordering of buttons we want.