Samsung has just started rolling out Android 9 Pie update over One UI to Galaxy S9 and Galaxy S9 Plus devices. We have already mentioned how to sign up for the Samsung One UI Beta program. Now the South Korean company has released the list of 24 devices which will get Samsung Android 9 Pie update officially. However, the complete update process will take some time.
Samsung Confirms 24 Device List – Android Pie One UI
The Samsung Galaxy S9 and Galaxy S9 Plus devices are scheduled to receive the Android Pie One UI update globally in January 2019. Samsung also started rolling out the Pie update to Galaxy S9 Duo devices. In February 2019, the Galaxy Note 9 will also get the latest update with latest Security Patch. The Samsung Galaxy S8, Galaxy S8 Plus, and Note 8 will also get the Pie update in March 2019. The Galaxy A8 (2018), Galaxy A8+ (2018), Galaxy A7 (2018), Galaxy A9 (2018), and Galaxy Tab S4 10.5-inch models are scheduled to receive Android 9.0 Pie update in April 2019. The Galaxy A8 Star will receive in May month as mentioned.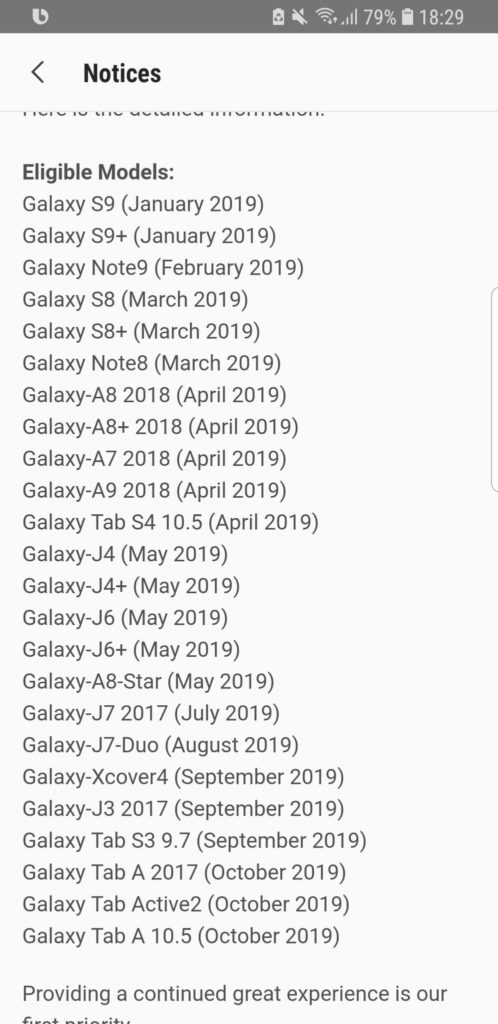 Samsung Galaxy J Series List
Whereas, the J-Series devices such as Samsung Galaxy J4, Galaxy J4+, Galaxy J6, Galaxy J6+ devices are listed for the update in May 2019. The Samsung Galaxy J7 (2017) and Galaxy J7 Duo will get the update in between July and August in 2019. The Samsung Galaxy J3 (2017).
Read Also: Samsung Galaxy S9/S9 Plus Gets Stable Android Pie Update With One UI
Samsung Galaxy Tab Series List
While, the Galaxy Tab A (2017), Galaxy Tab Active 2, and Galaxy Tab A 10.4-inch models will receive the latest update in October month in 2019. The Galaxy Tab S3 9.7-inch model will be rolled out Android Pie update in September 2019. However, these month schedules could be changed later. Because the update track record of Samsung devices isn't that good or fast. So, we can expect a little bit of delay in scheduled list of updates (maybe).
Some of the Samsung devices such as Galaxy S7 and Galaxy S7 Edge already got two major Android updates. So, these devices won't get any official future Android updates. Till then, we have to wait for the official OTA notifications on some of the listed device models.