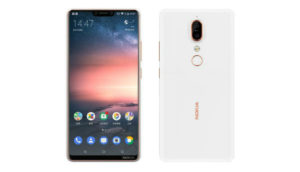 The Nokia X launch date went public a few days ago when few people saw the ad being displayed at multiples in China. HMD Global remained quiet about the device and there are almost no leaks for the device, increased the public curiosity for it because nowadays it is natural for a device to get leaked a few months prior the official unveil. The secrecy about the device has finally been lifted with the new Nokia X leaking in full glory.
Judging by the past nomenclature of their devices and with X being the Roman numeral for 10, it was speculated that the Nokia X might be the ultimate Nokia flagship, that has been in news for quite for me. However, this leak has squashed these rumors with the leaked specifications pointing to the fact that with the X6, HMD Global is trying to revive the Nokia X lineup of devices.
The device would be given the model number Nokia X6
The Nokia X lineup, beginning with the original Nokia X was launched by Nokia in February 2014. It was in response to the growing demand for Android headsets in the market. The devices used to run on Nokia X platform, a heavily customized Android UI, made to resemble the Windows phone UI and without the Google Play Suite of Services, bundling it with either 3rd party stores for delivery of applications.
The Nokia X6 seems to be carrying forward the design language of the new Nokia devices, providing nice, clean, premium looking devices. A 5.8- inch 19:9 (1080×2280) display would be covering almost the entire front of the device. If the aspect ratio hasn't made it clear yet, the device would join the growing list of devices with a notch.
A dual- lens back camera installation would be provided, in a design that seems just like the recently released Nokia 7 Plus and the Nokia 8 Sirocco.
The device is expected to come in two processor variants, with the Snapdragon 636 and with the MediaTek P60 processor. The expected memory. Storage configuration is 4GB/64GB and 6GB/128GB.
On the software front, it would be featuring like the other Nokia devices stock Android 8.1 Oreo out of the box.
It is expected that the device would be priced between the Nokia 6 2018 and the Nokia 7 Plus with a pricing of $255 and $ 285.
The device would be unveiled in China sometime later this week and it would be followed by a global launch in May 2017.
You may also like:
Image render revels key specifications for Moto Z3 Play
LG G7 'ThinQ' lands 2nd May
Nokia 6(2018) launched in India at Rs.16,999
LineageOS 16: Supported Devices and Release Date
Moto G6, G6 Plus, G6 Play unveiled
Sony's first dual camera device XZ2 Premium unveiled