LG V40 is going to be the next flagship form the South Korean mobile maker for the year of 2018, a year that has already seen the release of numerous flagships from the company.
LG's phones have for the past couple of years not managed to generate the buzz or the sales volume that the company has been expecting from them, though it hasn't stopped the company from making some of, if not, the best flagship devices on the planet.
The LG V40 is also expected to be some such device. The device has not had much information leaked these past few months, and the only information available are third- party renders of the device.
The LG V40 has now been revealed to have gained certification from the National Radio Agency, a South Korean agency, indicating that it may be launched in the coming weeks, though there is no official release date yet.
The model name of the device has been dubbed the LM-V409N and it has gained the certification to use LTE radio equipment across South Korea.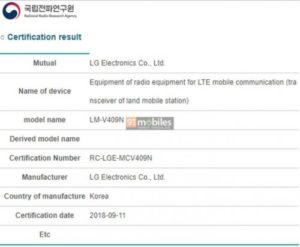 The LG V40 is expected to be a camera juggernaut with LG expected to pack the device with a whopping 5 camera in total, 3 on the back and 2 on the front.
The back camera combination is expected to comprise of a standard wide angle lens, a super wide angle lens and a telephoto lens, a first for any LG flagship smartphone. The front 2 cameras are expected to aide in 3D facial recognition and improved bokeh mode.
LG 40 is expected to carry the ThinQ branding also with the official name of the device being the LG V40 ThinQ, ThinQ being LG's AI ecosystem.
Being a flagship device, the LG V40 ThinQ would be having a Qualcomm Snapdragon 845 SoC on- board along with 6GB of RAM, and possible 8GB in its plus version. The device would be having an OLED panel from LG's in-house LG Display. Its expected to cope with LG's own custom skin based on Android 9.0 Pie, making it one of the few devices in the market to come with Android 9.0 Pie out of the box.
LG's best-in-class audio experience is also expected to carry forward into the device with the LG V40 sporting the boombox speaker, QuadDAC, and DTS:X 3D Surround sound.