Finally, the LG G7 ThinQ has seen the light of the day as LG unveiled the device at an event in New York today.
LG's devices have been centered to the audiophiles for a long time, so it is not a surprise that the LG G7 ThinQ comes with a bunch of audio tuning onboard also.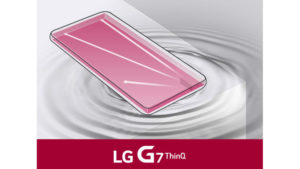 The LG G7 ThinQ's speaker is 10 times louder than an average smartphone's speaker with double the bass.
LG is terming the speaker as the Boombox speaker. The technology utilized the entire internal space of the G7 ThinQ as a resonance chamber. This gives LG G7 ThinQ, 10 times the resonance chamber as that of traditional smartphones. It also helps the device deliver twice the bass of a conventional smartphone. Furthermore, the sound levels would be increased by 6dB thanks to this enclosure.
On placing the device in a wonder surface or table or box, the surface would resonate the sound turning itself into a large woofer. The overall result would be an experience that is almost equally powerful as connecting a separate speaker.
If that is not enough, then either is another feature for the audiophiles, the device is to include DTS:X Surround Sound technology, something that would provide 3D Surround sound experience. Along with enhancing the dialogues in media playback, it would build a vivid sense of space, thereby giving the users a more immersive content experience. It is something that works with regular earphones/ headphones also. Apart from that, there is the HI-Fi- Quad DAC support also.
Simplifying all of these, you would be able to have an incredible audio experience with the device even without investing in expensive headphones or speakers.
Overall the LG G7 ThinQ provides an incredible audio experience. However, it would be interesting to see if it is able to revive the company's agile mobile business which is losing money over time, even though the rest of the company continues to rake in high profits.
For the complete specifications of the LG G7 ThinQ check out the coverage on our website.