Google has released an update to the all Android device users on the device settings option. It allows users to back up their device data manually to their Google Drive account. Earlier to this update, the Android devices have to be connected with the Wi-Fi network and ongoing charging to backup the device on Google Drive. However, it helped users to reduce any extra data usage during the backup process. But so many users have Wi-Fi networks to use, that was an issue earlier. Now all issues are sorted regarding Wi-Fi connectivity or battery charging tasks. Here we will guide on how to backup Android device data on Google Drive easily in a few steps.
Apart from the update, we don't sure about the which Android version will work properly. But the preloaded backup option is now available on Google option from the device settings menu. It will work on all Android devices (if updated recently).
Read More: How to Backup Your Android Device Without Root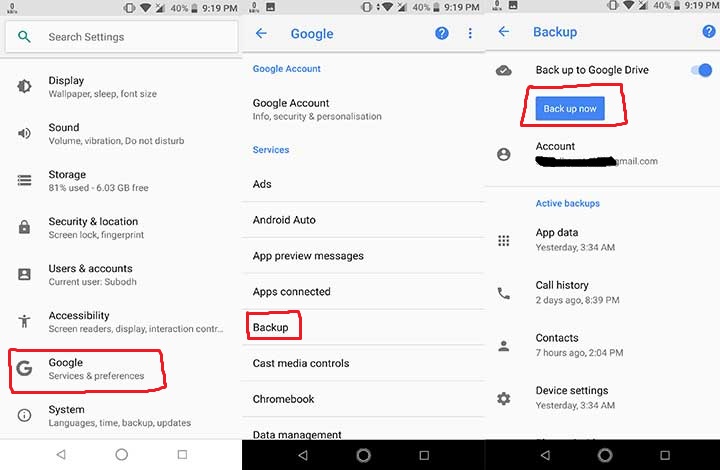 How to Backup Android Device Data on Google Drive
Go to Device Settings menu > Google > Backup.
Now you will find the 'Backup Now' option and check whether the backup is enabled or not.
Turn on the 'Back up to Google Drive' option.
You can also see a list of active backups with time and day. (Includes App Data, Call History, Contacts, Device settings, Photos & videos, SMS text messages etc.)
Finally, tap on the "Back up now" option to start the manual backup process. This could take a while depending on your internet speed.
This backup process can be done in the background as well. So you don't have to stay on that page longer.
Restore Data Again
The backing up your device data will help you a lot in future. You can easily transfer your App data and device data completely on your Google Drive account without any extra effort. When you want to restore the backed up data again, just turn on the Automatic restore option while installing any app. Similarly, when you reset your device and boot for the first time, just sign in via the same Google Account where you backed up. All the data should be restored automatically on your device again.