The Google News 5.5 application brings the dark theme after several other apps like YouTube, Android Messages, Gboard etc. People love to see and use the darker theme on all apps which are now increasing every day. Meanwhile, Google news or feed becomes more specific and refined in terms of the user search history and recommended stuff. Google is offering a new and free customized news feed which people can easily go through via categories and the AMP pages obviously contributing in it.
Google News 5.5 Brings Dark Theme
The new Google News 5.5 app offers dark theme option in the settings menu. There you can set the dark theme as per your choice like always, automatically for night time and will turn on battery saver as well, the battery saver only mode, and never option. The interface will change into a whole new experience with black and white color. This even changes the status bar and navigation bar background into the black color. This will definitely look soothing in your eyes especially in dark conditions.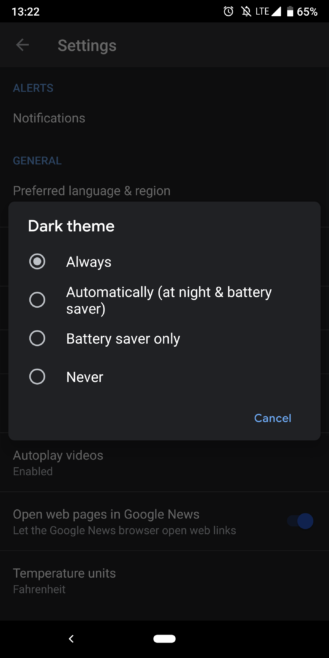 There are no any major changes made with this version except some system optimizations. You can download the latest app from the Google Play Store or from the APK Mirror also.