LG V40 is going to be the next flagship from the South Korean smartphone and electronics giant. The phone has managed to gain some pre-release buzz owing to the fact as the device is rumored to be the first device in the world to have five cameras on its body.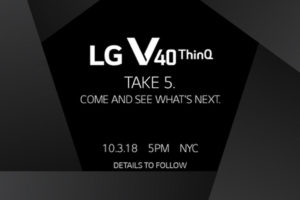 The device has managed to prevent itself from getting too much of its info leaked as the only renders currently circulating on the net are the CAD renders of the device.
LG has sent out invites for its 5th October event. The invitation carries a subtle hint that the device may indeed carry five cameras in total, with the invitation carrying the phrase "take-five".
The device is expected to have a triple lens camera combination at the rear with the combination housing a regular wide-angle lens, a super wide-angle lens, something that has now become a specialty of LG's flagship devices and a first for any LG flagship, a telephoto lens. The front of the camera would be housing a double lens camera system.
The device's existence was confirmed when it dropped by at the Korean NRR certification agency. Though the certification didn't reveal any detail about the device, other than the fact that it would be allowed to operate on LTE in the country.
The LG V40 is expected to carry a Snapdragon 845 SoC on- board, in sync with most of the flagships in current times. It is also expected to carry forward the QuadDAC, DTX:X 3D Surround Sound and Boombox speaker from LG's G6 ThinQ, their second flagship for the year.
The LG's V series has long been marketed for creators like the LG V30 brought the CineVideo feature that gained widespread accolades for the company as it offered vloggers a great mechanism to record videos. So, it is fair to assume, that LG would be bringing something better or new to the LG V40 also.
Apart from that, the device may come with support for 3D facial recognition, owing to the two front cameras, 6GB of RAM in its upper version, with a possible 8GB version also and have a 6.3- inch Poled notched panel at the front.