LG V40 ThinQ, one of the most anticipated devices for the fall season is going to be launched by the South Korean electronics giant on the 5th of October. LG however, in order to grab some eyeball before the event and become the talk of the town, decided to unveil some of the details for the device a week earlier in their home country.
A 30-second teaser that was posted on LG Korea's home page along with going life on YouTube, contains a brief first glimpse of the V40 ThinQ.
The device showcased in the teaser seems in line with the leaked renders for the same over the past few weeks.
LG has put the main focus on emphasizing about the V40 ThinQ 's design along with several mentions of the number 5, which have all but confirmed the presence of five cameras in total on the device, making it probably the device with the maximum number of cameras in the market.
If that was not enough, LG has also showcased the back of the LG V40 ThinQ. This has also showcased the triple camera set up in a horizontal setup at the center. The fingerprint sensor is also mounted on the back of the device, below the camera sensor' placement.
LG is promising that the V40 ThinQ would be delivering 'beautiful beauty'. Whether this is an indication of the devices' look and design or towards some really advanced imagery from the device, that remains a suspense for now.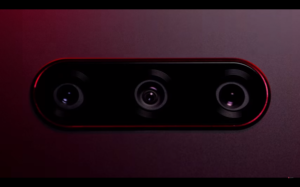 The V40 ThinQ features a glass- sandwich design, which included the use of sandblasting method to cut the back glass in order to achieve a 'silky feel'. Owing to this technique the rear glass has a soft to touch feel, along with retaining the trademark strength and hardness characteristic, LG's devices are known for. Furthermore, the metal frame has been provided a glitter treatment. The back glass is also said to be scratch, fingerprint and dirt resistant.
LG has managed to further squeeze the bezels out, by packing a 6.4- inch display in the same sized body as the last year's LG V30 ThinQ.
The device would be arriving in Platinum Blue, Morocco Blue and Carmine Red with the matte colors said to be subtle
LG, however, didn't reveal any information regarding the camera specifications or the processor or storage details and has reserved them for the official unveiling.