Amid much hype and fanfare owing to numerous leaks over the past many days, we finally have the Sony Xperia XZ3 as the Japanese manufacturer pulled the curtains over its latest flagship at the IFA Berlin 2018.
Since there is too much to cover in the device, let's dive straight into it
Specifications
Processor
Being a flagship device, the Sony Xperia XZ3 is powered by an octa-core Qualcomm Snapdragon 845 SoC
Memory, Storage
The device comes with 4GB of RAM and 64 GB of internal storage.
Display
The Sony Xperia XZ3 features a curved QHD+ OLED display, making it the first Sony smartphone to have the OLED display because Sony's smartphones have traditionally had IPS LCD panels. The display uses the same technology that some of Sony's high-end TV's have been using for some time. It has an aspect ratio of 18:9 and a resolution of 1440×2880.
For more information regarding Sony Xperia XZ3's display check here.
Camera
Featuring Sony's unmatched Motion Eye technology, the main camera has a single 19.2 MP camera at the back. The front camera is a 13.2MP sensor and carries a f/1.9 aperture lens. The camera app's UI has also been redesigned and made more intuitive.
Software
The device ships with Android 9.0 Pie onboard making it the first smartphone in the world to ship with the latest iteration of Android that was released earlier this year.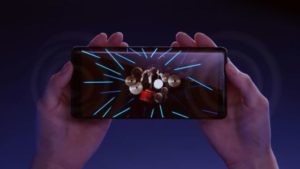 Waterproofing and headphone jack
Apart from this, the devices are IP65/68 wireless and dust resistant and come with support for Qi wireless charging also.
It, however, omits the headphone jack.
Pricing and Availability
The smartphone would retail for an effective price of 900$ placing it between the XZ2 Premium ( 999$ ) and the Xperia XZ2 ( 700$).
The device would be available in purpley red and green apart from the regular white and black models.
Advanced Features
The device comes with a ton of feature more like AI side sense, and a display which Sony says is unmatched in the smartphone world among others. So much so, that there is an entire post dedicated to the specialties of the Sony Xperia XZ3.