Samsung already sent out the media invites for the launch event of Galaxy Note 9, held on August 9. The launch event will be placed in New York City at 8:30 PM IST. The much-awaited Galaxy Note 9 definitely will come with so many flagship features and cool color variants as well. The official poster image showing a dedicated button embedded into the phone but that one maybe power button, Bixby button, or S-Pen. But now Samsung Gear S4 is also on the list of rumors and renders.
Samsung Gear S4 Gets ECC Certification
Samsung is doing all the possible things to launch the Gear S4 smartwatch along with the Samsung Galaxy Note 9 device. The Samsung Gear S4 has been spotted at the Eurasian Economic Commission's website (ECC) for its certification and the wearable gets the certificate. So that could be a closer one towards the launch on August 9.
---
---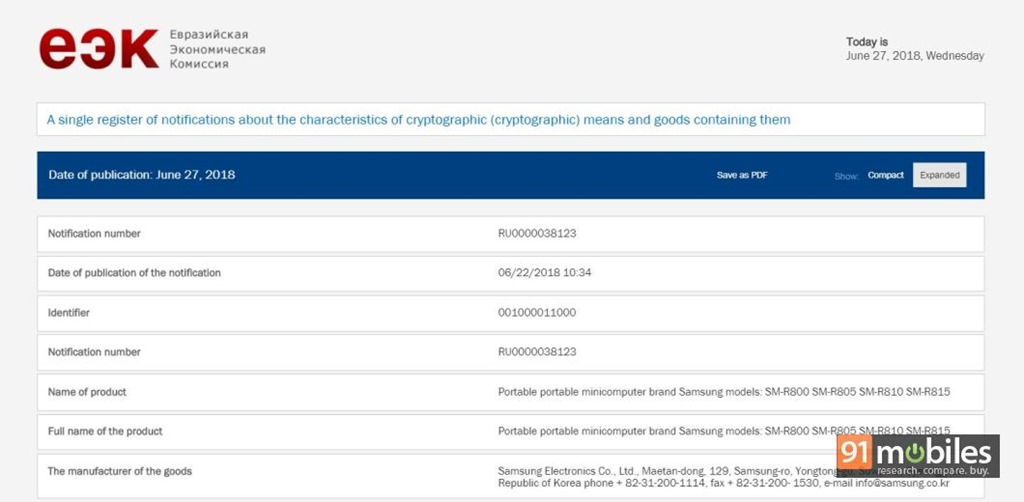 Though the certification leaked image doesn't show any specification list or any image still, we can expect this smartwatch on the same day. Some other reports suggest that the Samsung Gear S4 could be same as the previous generation Gear S3 but will have two models. One variant will be packed with so many features along with PLP (Panel Level Packaging) application processor and another will be a cheaper variant.
You might find it useful:
---
---
---
The Samsung Gear S4 could have the 470mAh battery and could come in different colors as well than the older models. The previous model has only 380mAh battery in terms of the new one. The sleek and glossy circular design will be good to see. The rumors say that there will be another sub-display within the bezel of the watch and you can use it to navigate the watch all around.