There are so many reports that the Samsung was working on an Android Go edition phone. That device will be specially made for Asia, Europe, And Latin America countries. The leaked report says that the device model name will be Samsung J260F (SM-J260F). The J2 series smartphone already popular in the market as an entry-level device. Now the rumors are getting true as the Samsung's First Android Go Edition Phone specifications leaked online today.
Samsung's First Android Go Edition Phone Specifications:
The below-given image shows that the Samsung J260F device features a 5-inch Super AMOLED display. The device will be powered by 1.4GHz Quad-Core Samsung Exynos 7570 SoC coupled with 1GB of RAM and 16GB of internal storage capacity. Though there isn't mentioned about the expandable storage, still we can expect it to have a hybrid SIM slot for both dual SIM or one SIM and one MicroSD card usage.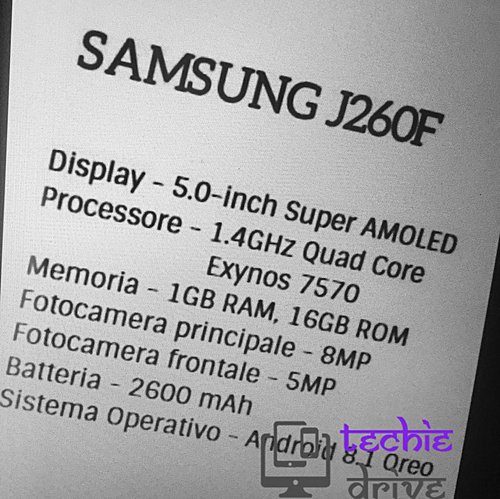 The SM-J260F smartphone comes with an 8MP of rear camera and the front-facing camera will be a 5MP shooter. The device will run on Android 8.1 Oreo Go Edition. It assures that the device will be bloatware free and will run quite smoothly than the Samsung's Experience UI. The 2,600mAh battery will be capable of doing daily tasks and running smoothly as the Android Oreo Go version is purely optimized for the low-budget smartphones.
Availability:
This will be the Samsung's First Android Go Edition Phone and it will launch most probably in next two months. The other two variants also spotted online such as SM-J260G and SM-J260M and will launch very soon. These two mobile phones also reported as the same specs as Samsung J260F but will be available in different regions. There is no information about the other specifications and features of this phone. However, with the 1GB RAM, we can't expect more from the device. The price and availability date isn't also confirmed. There is another budget device called Samsung Galaxy J2 Core also in the list of launch within few months.
The main thing is that in 2018, Do you prefer to have such a low-budget device with the mentioned specifications? Does it fulfill your requirements within the approximately Rs.4,000 budget? Let us know in the comments below.