A few weeks ago we saw the first mention of the Galaxy Note 9 in Samsung's firmware, the smartphone that would probably kick off the fall flagship season. Now, the mention of another flagship from fall is starting to creep in as in the latest AOSP commit, first traces of the Pixel 3 can be noticed which all but confirms that the Pixel 3 is in active development, like it wasn't obvious.
AOSP is, in case you don't know, Android Open Source Project, an open source operating system with its repository is maintained by Google, which acts like a sort of a base kernel above which either OEMs make their OS. It also has information about how to create custom variants of the Android software stack and port devices so that they meet the compatibility requirements.
The Pixel line of smartphones is the latest attempt by the Mountain View company in the mobile handset market. Pixel devices are priced at roughly the same as the Apple's iPhone line of devices and are an attempt by Google to drive the premium customers to buy Android flagships. In case you're living in a cave and are unaware of it, the Pixel line of devices have seen four models till date, the Pixel and Pixel 2 and the larger XL siblings.

The Pixel devices have launched in the first week of October these past two years and it is safe to presume that the same would happen this time also.
The exact AOSP commit reads "This change added the config because the HAL V_1_2 only supports Pixel 3' and it is titled 'Cherrypick 'Add device config to decide which Auto Selection Network UI to use"'.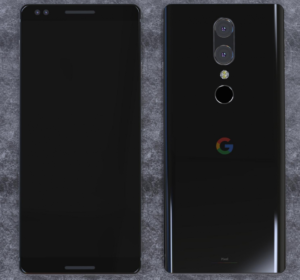 A report released a few weeks earlier had said that the Pixel lineup would be having a mid-range sibling also this time codenamed 'Desire' and running Android Go presumably and would be marketed in the markets with a large percentage of mid-range users.
The latest leak is the first of the many that we would get to see of the device and more details can be expected In the coming weeks, and a few are certainly obvious, like it would once again become the camera king in the mobile market, a probable presence of dual- cameras, a Qualcomm Snapdragon 845 or an 846, if it is in works and 4GB RAM which can be bumped up to 6GB, though the chances of which are less.
Further Reads
4GB variant of Nokia 6 2018 on the way
Speculated S9 Mini visits Geekbench
Moto G6 Series to possibly launch this April 19th