The iOS 11.4.1 update is now available for download for iPhone, iPad, and iPod users. This OTA update is rolling out to compatible devices and you can also do the clean install manually. This new version brings some of the bugs improvement, features, and latest security option as well.
Download iOS 11.4.1 –

Bugs Improvements, Latest Security Update, and Features
After a long time of iOS 11.4.1 beta version, it's now available. Though the update size and updated version aren't big, it improves some of the bugs and provides the latest security patch. The most useful feature provides called 'USB Restricted Mode' that can prevent any unauthorized access to the contents of your iPhone via the Lightning port. The iOS 11.4.1 beta version has this issue where after the one hour of last time of your iOS device unlocked during the usage of lightning port, the system will automatically lockdown data connection over the lightning port. That means if someone plugged in a device like Graykey, used by the US Police, then they won't be able to unlock the passcode and can't access the data of your iOS device.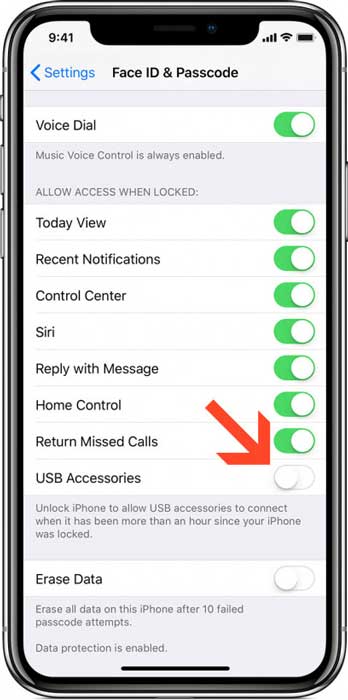 The USB Restricted Mode can be found in the device Settings > Face ID (or Touch ID) & Passcode > USB Accessories. The toggle will be turned off by default. You can enable it if you want to use it. However, the security firm Elcomsoft posted a blog that you can simply reset the one-hour time limit by an external USB accessory such as Lightning to USB 3 Camera Adapter.
How To Download and Install iOS 11.4.1 –

Via OTA
Now you can install the iOS 11.4.1 in two ways. Either you can download it via OTA update without any data loss Or, you can manually do a clean install by erasing all of your device data. If you want to perform the traditional method to install the iOS 11.4.1 via OTA then connect to your Wi-Fi and go to device Settings > General > Software Update. Wait for few seconds to appear the iOS 11.4.1 update tab and then tap on Download and Install button.
Otherwise, if you want to do a fresh install then go to Settings > Apple ID > iCloud > iCloud Backup and tap on the Backup button to keep your data safe. Similarly, you can also back up your iTunes as well via your PC or Mac. Just connect your device iTunes > select Backup to 'This Computer' for better accessibility.
Once you're done then go to your compatible device download link and download the latest version on your PC or Mac.
How to Install iOS 11 or iOS 11.4.1 Manually –

Step-By-Step Guide
1. We're assuming that you have properly installed iTunes. The iOS 11.4.1 firmware file downloaded, then connect your iPhone/iPad/iPod touch to your PC or Mac using a Lightning cable.
2. iTunes should automatically launch at this point. If it doesn't then please do it manually.
3. You'll see your device is listed at the top left corner of iTunes. Click on your device to select.
4. Now you could found a button called 'Restore iPhone'. Click on it while holding down the left Option key (Mac) or the left Shift key (Mac) and select the iOS 11.4.1 IPSW firmware file which you have been downloaded.
5. Once you select the firmware file, iTunes will extract it. Then click on Restore iPhone and verify the update at last.
6. Once the installation process will be done, your device will boot into the iOS 11.4.1 welcome screen.
Download iOS 11.4.1 IPWS Firmware File –

List of Download Links:
You might also like –