There is always a time in life that you must have wanted to purchase a karaoke machine. Karaoke machines simply make gatherings of family and friends more interesting because these machines provide an opportunity for them to sing and perform their favourite songs. They are most commonly seen in bars and cafes but are today bought by households to homely events like weddings.
What is a Karaoke machine?
A karaoke machine is basically an instrument that has a sound system and a microphone attached that captures the sound. The machine plays pre-recorded instrumental tracks and enables you to sing along using the microphone in your own voice. Modern karaoke machines incorporate video screens that display the lyrics or images with moving symbols as a guideline to the person singing the song.
This is just an explanation of what a basic karaoke machine does. Modern karaoke machines have been built with features that allow you to connect it with your home theater so that you can read the lyrics right out of your television set.
Before choosing the right type of karaoke machine for your home, you need to know the different types of karaoke machines first:
Home karaoke machines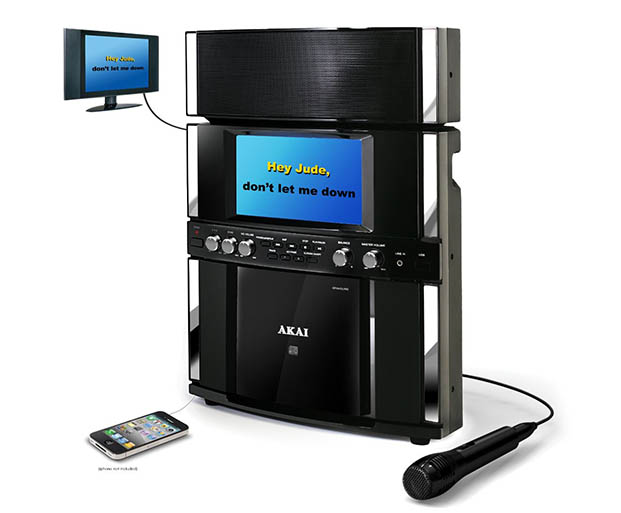 Karaoke machines made for homes allow you to simply plug-and-play. You will just need an external output for seeing the lyrics (like a TV). Some are fitted with small screens and dual microphone connections for double or group performances.
Multiple connection options will enable you to make use of accessories like microphones, YV screen, and stereo system. Home karaoke machines are not as expensive as professional karaoke machines and will have a price range between $250 and $500.
Home karaoke machines will allow you to play a plethora of music from your Android or iOS mobile devices, Blu-ray, DVDs, CDs, etc. Some of these machines also have recording facilities so that you can watch your performance later.
Portable karaoke machines
This kind of karaoke machine should not be confused with karaoke machines for kids. While both are portable, karaoke machines for kids are limited in the terms of technology. Portable karaoke machines are plug-and-play units that are packed with great sound speakers, microphone sets, video screens and amplifiers.
When buying a portable karaoke machine, you should always consider the sound quality and power unit. While most of these units can be integrated with a home theater system, they don't have the output when compared to professional karaoke machines.
Portable karaoke machines are normally priced between $300, but the high-end ones can cost more than $700. Modern portable units are good enough for large rooms. More powerful machines are great for small outdoor gatherings as well.
Karaoke machines for kids
These types of karaoke machines have a lower price range of around $200 and more colorful looks. Due to its light weight and small size, this karaoke machine is portable in nature. The graphics on the karaoke machine includes an emblazoned exterior and animated cartoons.
In contrast to its small size and average built, these karaoke machines are great in their own way. They are built with display screens and pre-loaded with songs; the collection is expandable by inserting a customized DVD player or a USB flash drive. It is also very inexpensive and will give your kid a great time.
Professional karaoke machines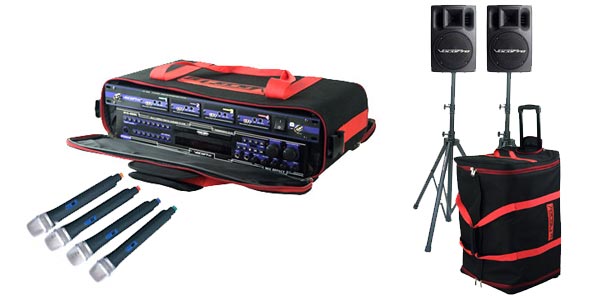 The professional karaoke machine is one the best karaoke machines on the market that is perfect for clubs and pubs. These units are fitted with the best specifications like top-level amplifiers, great recorders, HD-screen for lyrics, etc.
These units can also be used at home settings. These karaoke machines are finished with a plug-and-play feature. You will not have to integrate it with your home theater system for added amplification. Die-hard karaoke fans will love this karaoke machine and will definitely jam to it.
Most professional karaoke machines start at the price range of $400, but high-ended units can cost more than $1000. Most of the price range of karaoke machines depends on the specifications of the unit. Some great features include automatic track changing feature, onboard hard drive, more DVD players, etc.
Things to look out for when buying a karaoke machine
Ease of setup and portability
Most karaoke machines for homes are easy to set up. The setup manual clearly explains the assembly steps. Very rarely, there have been complaints about the system being complicated to set up. Also, portability plays an important factor if you plan on picking up and carrying your machine to different locations.
Music accessibility
Older karaoke machines that still use CDs will most likely come in CD+G (CD and Graphics) format player that plays new music while scrolling the lyrics across the screen. Modern karaoke machines now accept input from various other devices like smart phones, tablets, MP3 players, computers, etc. The difference in price between buying a CD and downloading the song online will play an important role when you decide to buy a karaoke machine.
Audio quality
Needing to be heard not only by the audience but also to yourself is one of the most important criteria you have to think through before buying a karaoke machine. You need to make sure that the karaoke machine has decent speakers or has an audio output to connect it to your home theater speaker or an amplifier. Bad quality speakers will not give you the desired results.
Recording/playback ability
Modern karaoke machines are fitted with the ability to record your karaoke sessions and share them with your friends or family. There are also some karaoke machines that will allow you to sing and record simultaneously in MP3 format in your karaoke disc.
Who will be using it?
Your experience of the karaoke machine will greatly depend on what you bought the unit for. If you bought it for your kid, simple controls should be the top priority. Features like flashing lights are an added bonus. But, if you are buying it for adults, you should choose a unit that gives user-flexibility in options like echo effects and pitch control. For serious musicians, the sound quality should be the top priority.
Bottom line
As you can see above, there are a lot of factors to consider when you are buying a karaoke machine. There have to be some trade-offs that might be required since you cannot have all your wanted features in a single machine. We hope the karaoke machine buying guide 2018 above will help you purchase the perfect karaoke machine for your home.