Microsoft's upcoming Windows 10 mobile device could come within 2019 or before the end of this year. The device codenamed as 'Andromeda' which will be a 'Microsoft Windows 10 Surface Phone'. So Microsoft Andromeda will be featured as a flagship surface model device with the dual-screen and a foldable mechanism technology. Yesterday we talked about the foldable displayed smartphone from Samsung will be launched before CES 2019.
While the Microsoft Windows 10 Surface Phone rumors and leaks indicating that the company is focused on Windows Core OS. The so-called "Pocketable" Windows 10 device is supposed to make a difference in smartphone future with "a truly personal and versatile computing experience". It's quite expected that the OEM partners are also planning to release this phone as soon as possible.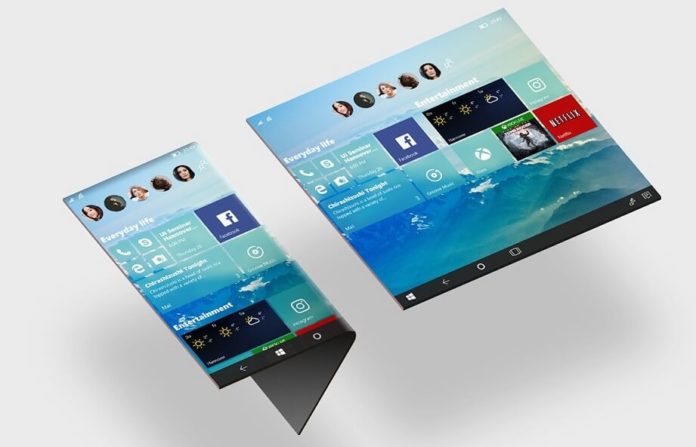 What is Windows Core OS?
Windows Core OS is based on a modular system for Microsoft desktop computer platform which will feature 'OneCore' kernel. That OS could be installed on Windows 10 mobile computing devices as well including dual-screen devices, 360-degree laptops, tablets, and 'Surface Studio' devices. The OneCore Kernel project is initially codenamed as 'One Windows' platform. It actually minimizes the OS to it's higher compression level and gives ultimate powerpack performance, security, and modularity to the devices.
It can be mentioned as a Windows Core OS (WCOS) which is a newer version of the Windows 10 modular firmware. Windows Core OS consists of UWP (Universal Windows Platform), Composers, Composable Shell (CShell), and OneCore, the Kernel.
Qualcomm Snapdragon 850 –

Specs Overview
Leaked reports say that the Qualcomm is working with the Microsoft to launch this device with recently launched Snapdragon 850 SoC. The Qualcomm Snapdragon 850 chip is specially built for Windows 10 ARM-based Mobile Compute devices and powerful than the Qualcomm Snapdragon 845 chipset. The SDM850 has Snapdragon X20 cellular modem with a frequency of overclocked 2.96GHz (8 Cores × Kryo 385 CPU), Adreno 630 GPU, Qualcomm Hexagon 685 DSP, Spectra 280 ISP (Image Signal Processor). It also has the connectivity features like Wi-Fi 802.11ad Multi-gigabit with quad-band 2.4Ghz/5.0GHz/60Ghz, Rdio, Audio Qualcomm Aqstic, aptX, Hi-Fi Surround sound, Bluetooth v5.0, location tracking, GPS, GLONASS, Qualcomm Quick Charge 4+ technology etc.
So this SDM850 is highly integrated and optimized for the Windows 10 ARM running mobile computing devices with better energy efficiency and enhanced AI-features. It's better than the latest flagship Qualcomm Snapdragon 845 processor with the main feature – 'Always On, Always Connected' option.
The 2-in-1 device from the surface team is supposed to replace your tablet or phablet device for a better user experience. The leaked reports claim that Dell also working with the surface device and preparing a prototype handset for showcase and testing. However, there is so many Surface phone concept image comes out, but all of them has a common thing that the device will definitely feature a foldable mechanism.
Microsoft Windows 10 Surface Phone –

Everything We Need To Know
1. It's quite likely that Microsoft Windows 10 Surface Phone codename will be Andromeda and it will be powered by Windows 10 ARM-based processor like SDM850 SoC and it could be a smartphone or a tablet or a phablet device. Qualcomm is also working on a 10W TDP powered Snapdragon 1000 SoC to beat Intel processors. It's rumored that the chipset could support 16GB of LPDDR4X RAM. Though that will work on computers still we can expect a much higher frequency and much powerful chipset for Windows 10 mobile platform.
2. The foldable surface phone project is under development and Microsoft is working on that to release their much-awaited powerful device to compete for other flagship smartphones in the market.
3. The rumored Andromeda device is expected to come with a dual-screen foldable technology just like 360-degree laptops foldable mechanism and this will enhance the user experience as well as the mobile market within 2019. So, that will be a challenging for other brands.
4. The phone will be a multi-purpose 2-in-1 device that can be used as a tablet and also can be used as a smartphone when folded. Nowadays, people looking for bigger display devices for better user experience but the bigger phone could be a problem to use and carry. So, the foldable technology will come in handy in terms of the usage and pocket-friendly. That's why some experts say that the model name of the surface phone could be "Pocketable".
5. As we all know that within 2020, the 5G connectivity will be released and so many companies are trying hard to capture the marketplace in terms of "first ever 5G enabled" phone or chip or a network company. So Microsoft still has a chance to come with a next-level 5G enabled device and that can make a major difference along with foldable technology.
Intel also recently launched a Windows 10 foldable device but that's huge and doesn't fit as a Pocketable device. So we have to wait for more leaks and reports to know better about the device before launch.