MediaTek has launched the Helio P70 SoC on October 24, today in China. It's based on TSMC's latest 12nm FinFET process and using 4×Cortex-A73 and 4×Cortex-A53 cores coupled with the ARM Mali-G72 GPU. This chipset is the successor of the Helio P60 SoC which was also quite powerful and AI-integrated. This time the company developed the new one with almost 13% of increased performance ratio than the previous one. The Corepilot 4.0 delivers advanced monitoring, system UI performance, task scheduling and more very efficiently.
MediaTek Helio P70 – Key Specifications and Features
The MediaTek Helio P70 offers multi-threaded optimizations with the help of AI which provides better gameplay and reduces picture latency ratio. The latest and improved MediaTek's NeuroPilot and dedicated APU engine features AI processing power up to 30% in compared to Helio P60. This Powerful Helio P70 chip can support more complex AI applications in a real-time frame such as Face Unlock, Human attitude detection etc.
Read This: MediaTek Helio P70 is coming soon with Advanced AI Hardware later this month
The chipset features high-resolution depth engine mode which ensures the smoother depth-of-field preview of 24fps, delivering 43mph/sec. The multi-frame noise reduction technology performs better noise control in pictures up to 20% and even the converting ratio of RAW files into JPEG format will be faster enough. That also increase the shutter speed during burst mode or continuous large number of clicking pictures.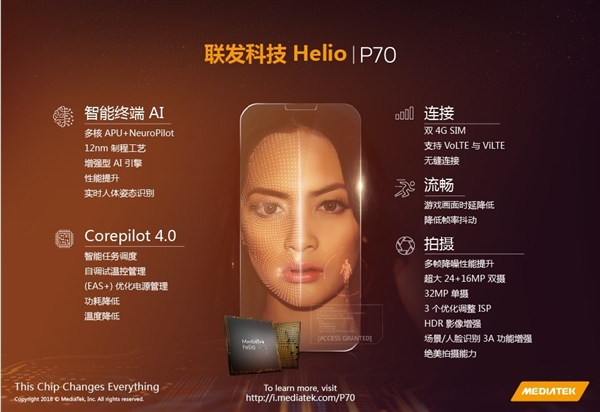 The CPU hardware is capable of handling shake free videos called EIS (up to 23mA/sec) coupled with GPU. Whereas, the anti-halo engine prevents the system from over sensing and provides better auto exposure and auto focus with white balance in compared to the previous generation. It's worth mentioning that the AI is much improved and powerful in terms of processing and rendering time.
The MediaTek Helio P70 SoC supports up to 4K videos and offers dual 4G LTE cum VoLTE (Voice over LTE) and ViLTE (Video over LTE) mobile network connection over Wi-Fi as well. The users will experience better call quality and network outreach even better than before. Last but not least, the SIM data connection, download speed, and energy consumption will be improved way better than Helio P60 chipset.