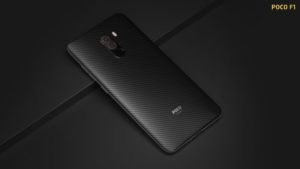 Whoa!!! as it turns out the recently released, so-called flagship phone from the Chinese smartphone manufacturer Xiaomi, the Poco Phone F1 is unable to stream Netflix or any other OTA service like Amazon Prime or Hulu in FullHD.
The lack of this feature is sure to disappoint the tons of people out there for whom a smartphone is the major source of media consumption.
The Poco Fone F1 or Poco F1 in India was released by Xiaoi earlier this month, The smartphone gained quite a lot of eyeballs worldwide owing to the fact that it was offering a device with a flagship processor, the Qualcomm Snapdragon 845 and 6GB of RAM for $299, less than third of what the Samsung Galaxy Note 9 is priced at.
However what almost everyone fails to understand is that to offer a device so cheap, the company has to definitely cut the corners at some places. The lack of a 1080p stream is one of these. There's a reason why Samsung manufacturers flagships that sell at 900$ plus. It is because they don't cut on accessories, and cram almost all the features that a flagship should have.
Xiaomi for example, under the pretext of giving a budget flagship, hasn't given a phone yet that has a screen of resolution higher than 1080p. Samsung, on the other hand, has been giving QuadHD screens for uqite some time in their smartphones. And only a fool would say that QuadHD is not a big deal.
What would be an even greater surprise would be the fact that none of the Xiaomii phones mannufactured till date, yup that includes their flagship Xiaomi Mi 8 also, dont offer HD streaming on OTA services. The maximum that they can go is 540p!!!. Its not even 720p, its even worse than that.
Widevine is a popular DRM platform for the Android platform. It is used by almost evey OTA content provider in the world. The Widevine comes in L1, L2 nad L3 versions. The L1 implies that the device is capable to playing 1080p stream, the L2 reduces it to 720p while the L3 devices support only 540p ( thats too 2000ish). Since all the Xioami deices shpeed dont have anything greater than L3 to offer, they aren't able to play 1080p Netflix.
A 1080p Netflix streaming is such that is offered in even budegt devices from Nokia and Samsung also. So if Xiaomi really wants to become a majoy player in the smarpthone market, they should better imprve the quality of the features they offer.
An enabling of L1 isnt something that can be done by an OTA simple. The OnePLus 5 was also a device that didnt support 1080p content streaming. It was only after OnePlus did the tedious process of asking their owners to carry theur devices to the service center, did the company patch them and enable 1080p streaming in them.