Yesterday on August 2 Thursday, the tipster Evan Blass tweeted an image of a calendar with a 'P' marked on 20th August. This indicates that Google might be planning for Android P stable version release on 20th August. Google has revealed the Android P developer beta in Google I/O 2018 conference. Similarly, the Android 8.0 Oreo stable version was also released on August 21 last year.
Read More: Google will release Android P with 'Notch Optimization' for Android smartphones
Google preparing to launch Android P Stable
The current Android distribution data survey shows that the Android Nougat (7.0 & 7.1 both) currently running on almost 30% Android devices only whereas, the Android Oreo (8.0 & 8.1 both) running on 12% of Android devices only. Still, Google is trying to develop their operating system for future smartphones. Recently the Android UI member stated that Google is working on the Android P stable version whereas, Android P mobiles will support only two notch cutouts such as above and below the display. There will be no option for placing notch cutouts on the left or right side of the device display.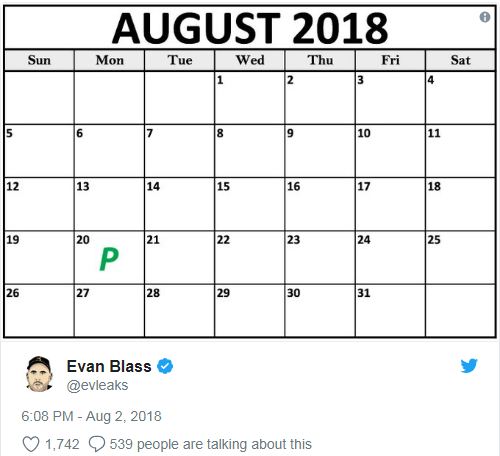 However, there is no confirmation from Google about the Android P stable release yet. In terms of the Android P developer preview, Google added some of the flagship and mid-range smartphones for beta use such as Google Pixel series, Oppo, Nokia, OnePlus, Xiaomi, Sony, Vivo, and Essential Phone by default. It is expected to add more devices in the list after launching Android P stable version officially.
Android P Stable or Android 9.0 Stable – What will be the name?
There is no confirmation about the official name of the Android P or Android 9.0 yet. There are some rumors that the Android P will be named as Popsicle or Popcorn or Pie etc. This update will bring better notification control and swipe gestures to the devices with more customizations. Google typically named all the previous Android versions alphabetically and similar to any kind of candy or sweet. We can expect the powerful machine learning Artificial Intelligence (AI) system with updated Google Voice Assistance feature in this version as well. In the event of Google I/O 2018, we have already seen the quality and strength of Google Voice Assistance service with Google Duplex.