As per a tweet by HMD Global's Juho Sarvikas, the Chief Product Officer for the mobile maker, the much-anticipated Android 9.0 Pie based update for the Nokia 7 Plus has got delayed. The reason for the delay has been said to be that the company encountered some platform-specific bugs in the development and testing phases of the update for the mid-range device.
#Android Pie 🥧for #Nokia 7 plus met with a couple of tricky platform specific certification bugs. We've got them now and are running final round of tests for quality assurance. Apologies for the delay. Like you know from Beta Labs, stability is there #nokiamobile

— Juho Sarvikas (@sarvikas) September 26, 2018
The Nokia 7 Plus is going to be the first Nokia branded smartphone to get the Android 9.0 Pie update after at the recent launch event of Nokia 5.1 Plus and the Nokia 6.1 Plus in India, HMD Global confirmed the availability of the update for the device by the end of September.
Much to the delight of the users, Juho Sarvikas tweeted that they have managed to squeeze out the bugs, and the update is in the final round of beta testing.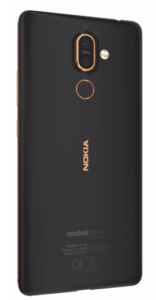 The Nokia 7 Plus was released by HMD Global at the MWC' 2018 and formed one of the devices that marked the first anniversary of the brand's debut. The device is a part of the Android One program from Google implying that it is guaranteed to receive at least two years of OS updates and at least three years of security updates.
Nokia 7 Plus has already received the Android P Developer Preview 4.1 update and as recent as last week, became the first non- Pixel device to get the support for Google's Digital Wellbeing, a smartphone de-addiction initiative apart from other improvements like settings menu, native gesture support among others.
With HMD Global rumored to announce the Nokia 7.1 Plus on the 4th of October, it seems that they would be making the announcement regarding the global rollout of the Android 9.0 Pie based update for the Nokia 7 Plus at the event itself.