Xiaomi launched their new wristwatch or you can say the smartwatch with their sub-brand called Xiaomi Mijia Quartz Watch. It quite looks like a simple Quartz mechanism analog wristwatch. The Xiaomi Mijia Quartz Watch has the stainless steel frame along with the mineral glass covered dial. The round smooth medium sized dial seems too good in terms of other analog wristwatches or smartwatches.
Xiaomi Mijia Quartz Watch – Smart Features
The overall dial shape and thickness is slim and the size is around 40mm. It features classic double-dial design along with small three needles. The large dial or you can say the primary dial with two needles shows time and the third needle shows step counts. The straps are quickly replaceable and interchangeable. This Xiaomi Mijia Quartz Watch isn't just a watch, it's a smartwatch. The smartwatch works as a step counter, calorie burner, automatic timer, pedometer, world time, interval reminder, call reminder, and an alarm clock etc. All of the data can be monitored via mobile application with internet connectivity and Bluetooth connectivity.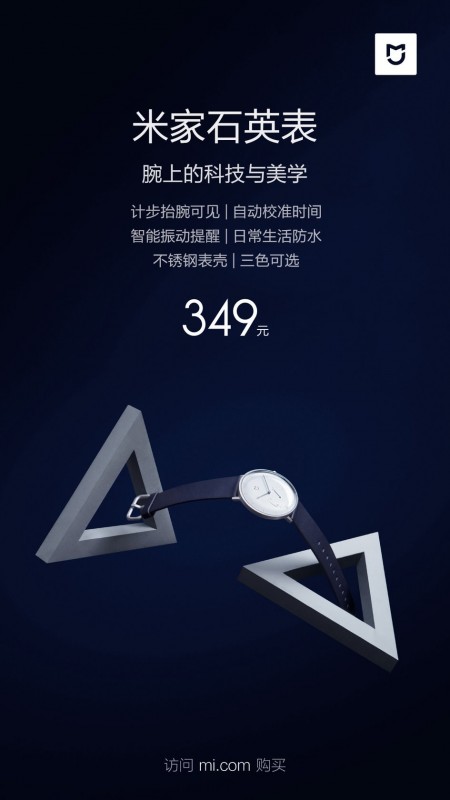 Read Also: Google might be working on Pixel smartwatch: Expected Specs, Price, and Release Date
The Xiaomi Mijia Quartz Watch will be available in three colors, such as Black, Blue, and Grey. Whereas the Blue color variant watch seems slightly premium just because of the white dial combination. The rubberized strap material seems nice and durable and Xiaomi brings this for casual relaxed usage. In the proper lighting condition, the dial backgrounds change its texture. Though it is not a water resistant watch, it can resist water up to 30 meters.
The Xiaomi Mijia Quartz Watch uses the CR2430 battery as an energy source and the smartwatch works on Bluetooth v4.0 LE. The Mijia Smartwatch is priced at Yuan 349 (US$52 approx). So, it could be a great gift for someone else or your daily driver as a quartz analog watch. However, we already mentioned that this watch isn't just a simple watch. Don't judge it with the looks. This watch will be available for sale from July 17 at 10:00 AM onwards.