Xiaomi is all set to release the flagship smartphone from the company in the Xiaomi Mi series which will be named as the Xiaomi Mi7. Now, this smartphone will come as a successor to the Xiaomi Mi6 which was launched by Xiaomi last year. Also, it is known that the Xiaomi Mi6 was not very successful in the international markets and the smartphone was not even launched in the Indian markets. However, the Xiaomi Mi7 is expected to come in the Indian markets also due to the success that Xiaomi has acquired in the recent times in India.
Now, we have known that the device should come with a Dual camera setup on the back, an all-glass build as seen from the Xiaomi Mi6 and a bezel-less display on the front as these are all the specifications that should be on a flagship smartphone launching in 2018. Now, it is also known that the smartphone will be launched by Xiaomi at the Mobile World Congress later this month which will be the first time that Xiaomi will launch its flagship in this event. Apart from the Mi7, Xiaomi is expected to launch the Mi Mix 2S in the same event as well.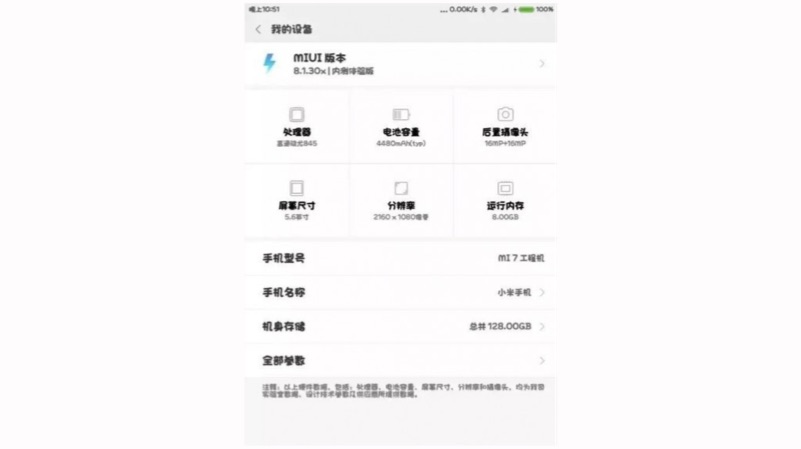 Xiaomi Mi7 Leaked Specification Details
Talking about the Xiaomi Mi7, the smartphone has now been leaked thanks to the leaked screenshot of the specifications that should be of the device itself. According to the leaked specifications, the Xiaomi Mi7 will have 8GB of RAM and 128GB of onboard storage along with a massive 4480 mAh battery.
The Xiaomi Mi7 will have an 18:9 Full HD+ display along with Snapdragon 845 processor to power the device. The leaked screenshot of the Xiaomi Mi7's internals have been attached above but the texts are in Chinese. The Xiaomi Mi7 is expected at the MWC later this month when we will know official details about the device.