SwiftKey, Keyboard one of the best third-party keyboards for Android devices is getting a much-needed feature for people who want to send messages across borders.
The Microsoft owned keyboard is now rolling out an update that would provide built-in message translation powered by the company's Bing Translator, thereby preventing the user from doing the tedious task of copying and pasting message from any translator app.
So far, SwiftKey has rolled out the update for its Android app only, the iOS version would also be getting the update, though there is no official confirmation when it would be happening.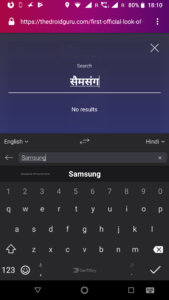 The translation feature wouldn't require the user to install the Microsoft Translator app on their devices. It is a native feature of the app. If the user, however, has the app installed he/ she may further the gain the ability to utilize the feature in the offline mode also.
The translator would be baked into SwiftKey's toolbar. A sort of like an extensive menu for the keyboard which contains options line location sharing, calendar, stickers, incognito mode among others.
Users of the translator feature may be even able to translate the incoming message from on the supported 60 languages into another one simply with the tap of a button, along with having their outgoing messages translated in real- time.
The rollout of the translation feature seems another step from Microsoft, which had earlier rolled out a real-time translator for Skype video calls also, to enable people of different languages, different regions to communicate with each other, without much of a technological barrier in between.
According to TechCrunch, Coleen Hall, the senior product manager at SwiftKey said, "The integration of Microsoft Translator into SwiftKey is a great, natural fit, enhancing the raft of language-focused features we know our users love to use"