Joining the list of devices to have the latest Android 9.0 Pie update is the Nokia 7 Plus, which is also the first device from HMD Global to get the Android 9.0 Pie update.
In a tweet, Juho Sarvikas, the Chief Product Officer for HMD Global announced the rollout of the Android Pie update for the mid-range.
This is in line with an earlier statement from HMD Global when they echoed that the Android 9.0 Pie would start rolling out to their devices starting with the Nokia 7 Plus from September. A few days, Mr. Sarvikas even provided an update that the update was delayed owing to some platform specific bugs and was in the final stage of testing. It seems the phase of testing is now over as the update rollout has begun.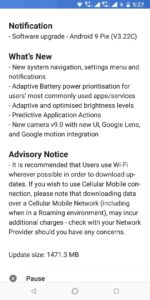 With this, HMD Global has become the fourth manufacturer to roll out the Android 9.0 Pie stable update to their customers, the others being Google, Essential Inc. and the OnePlus.
The Android 9.0 Pie, like every Nokia smartphone, comes with almost no bloatware or added skins. Being an Android One device, it comes with a smooth Android experience.
With Android 9.0 Pie, the Nokia 7 Plus would be gaining some advanced features which utilize AI and Ml underneath the hood along with features like Adaptive Brightness and App Actions along with ensuring smoother resourcing of power and processing. App Actions is an advanced feature that utilizes Machine Learning to display predictive actions on the phone at any particular point in time. Like in the morning, it would be showcasing the Google Map's drive to work.
However, the update is not bringing the Digital Wellbeing feature to the device which is kind of surprising given that HMD Global had rolled out the feature for the Nokia 7 Plus' Android Beta program.
In a press statement, Mr. Juho Sarvikas echoed, "We constantly strive to deliver on our promise of offering pure, secure, up-to-date Android on Nokia smartphones. Today, we are extremely delighted to start the rollout of Android 9 Pie on Nokia 7 plus – making us among the first to offer the latest innovations from Google, including Android One exclusive features such as App Notifications, to the value flagship tier."
The update is 1471.3MB in size and requires a stable WiFi connection for download. And as always it may be rolling out in phases with availability varying by a few days.