Technology is moving forward each and every day. The better smartphones and peripherals are the best example of this. However, the smartphone industry continuously researching on upgraded RAM and high-performance storage chips. According to some reports, the 2019 year will be for LPDDR5 RAM and UFS3.0 Storage variant smartphones. In addition, the SD express memory cards can also be seen very soon. All of these flagship features will be available in flagship smartphones only. However, the smartphone market is getting so much competition and we can expect to have some of these features in mid-range smartphones also.
LPDDR5 RAM Features
In short, LPDDR5 RAM can reach up to 6400Mbps of speed which is 2x higher than the current LPDDR4 generation and 50% higher than the LPDDR4X RAM, which can reach up to 4266Mbps speed. In according to Synopsis, LPDDR5 RAM Enhanced for Bandwidth, Reliability, and Power for IoT, AI, and Image Processing tasks. The cloud computing, Artificial Intelligence (AI), Machine Learning systems will increase the user experience and power efficiency in our daily tasks such as Autonomous cars, Augmented Reality (AR), Virtual Reality (VR) etc.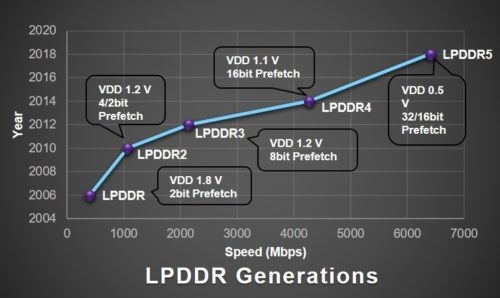 The memory industry started from planar (2D) DRAMs to wide I/O or a 3D technology TSVs (Through Silicon Vertical interconnect access) HBM (High Bandwidth Memory). The fifth generation LPDDR5 RAM is evolved to deliver high-class performance with lower energy efficiency including higher bandwidths as compared to LPDDR4 generation. The LPDDR5 works using the deep sleep mechanism to keeps background tasks easier and obviously uses low energy.
---
Read Also: Xiaomi Mace (Mobile AI Compute Engine) – An Open Source Project Released at GitHub
---
1. Bandwidth: The memory bandwidth is very important for managing applications in the background. For instance, the high-graphics gaming needs low latency or transmission of big data like 4K video @1080P/slow motion videos. The LPDDR5 RAM can support up to 6400 Mb/s.
2. Link ECC: The LPDDR5 RAM supports Link ECC functionality to read and write operations while data recovering. That time the transmission data loss or charge loss introduced. DMI (Data Mask Inversion) signal and RDS (Read Data Strobe) signal used for reading and writing data to reduce loss.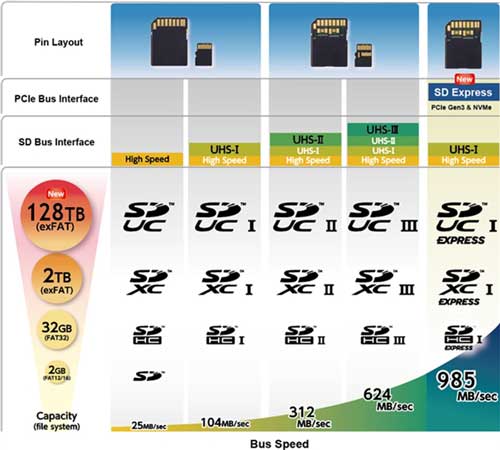 3. DSM: The Deep Sleep Mode (DSM) is used to reduce IDD current by 40%. The DSM can be used in idle time or self-refresh time. DSM includes Deep Sleep feature and self-refresh feature for better battery consumption. However, it can also do data loss up to 4ms longer.
4. Data Copy: The Data Copy is a low-power function to reduce LPDDR5 I/O and core power (IDD4W, IDD4R) consumption by utilizing data pattern repeatability per 8Byte data copy level wise. The LPDDR5 Data Copy low power added for normal read/write and mask writing with the same latencies and AC timing conditions.
5. WCK Clock: LPDDR5 RAM introduces WCK Clock quite similar to GDDR5. The LPDDR5 operates two differential clocks CK_t and CK_c while the data interface uses two differential forward clocks WCK_t and WCK_c. The WCK_t and WCK_c can operate at 2 times or 4 times the frequency of Command/Address (operation) clock (CK_t/CK_c).

UFS3.0 Storage Features
The UFS3.0 Storage standard has been finally official by JDEC with a maximum speed of 2900Mbps. It is the double of UFS2.1 storage speed (1200Mbps maximum). Each lane can handle from 5.8Gbps to maximum 11.6Gbps of data. It provides a peak transfer speed of a 23.2Gbps. Obviously, the real speed will be quite different. Necessarily all UFS3.0 compatible devices are required to support HS-G4 (11.6Gbps) and HS-G3 (5.8Gbps). That means the next generation UFS3.0 will be simply faster enough than previous generations.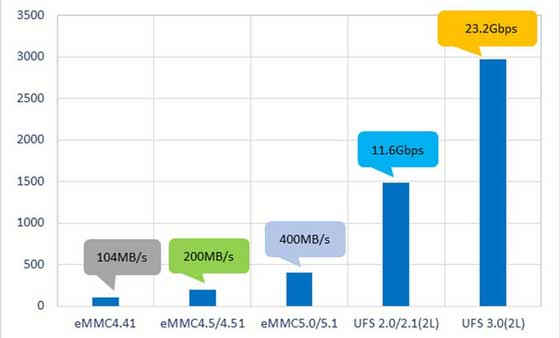 LPDDR5 RAM and UFS3.0 Storage Availability
The leaked reports say that Samsung has made UFS3.0 Flash memory chip for their upcoming flagship smartphones. However, we have already mentioned earlier that the upcoming Samsung Galaxy S10 or Galaxy X and OnePlus 6T or OnePlus 7 could be featured with LPDDR5 RAM and UFS3.0 storage capacity. In addition, other smartphone brands like Xiaomi, OnePlus, LG, Huawei, Sony, Oppo, Vivo etc. can also include LPDDR5 RAM and UFS3.0 storage to their flagship devices within 2019.