We all know about HydrogenOS which is used in OnePlus devices in China especially. While the other countries including India get OxygenOS with OnePlus smartphones. Recently, the XDA Developers found the list of a newly leaked beta version of HydrogenOS 9.0 for the OnePlus 5T Chinese variant. The OnePlus 5T device list contains model number of OnePlus A5010 with serial number A5010_43_181112.
HydrogenOS 9.0 leaked for OnePlus 5T with Android 9 Pie
Worth mentioning that HydrogenOS is developed for China region OnePlus handsets and the global variants are served with OxygenOS build which seems more stable and improved as compared to HydrogenOS custom skin. However, the software updates and OnePlus features updates come first to HydrogenOS running devices. That also means the OxygenOS update will come soon as expected.
Read Also: HydrogenOS Beta released for OnePlus 6 with Android 9 Pie update
A few months ago, OnePlus committed that the Android 9.0 Pie update will come in OnePlus 5 and OnePlus 5T devices. Now it will interesting to see whether the update will be released by the end of this year or it will take 2019. OnePlus 6 and 6T already get Android Pie update and now it's time for OnePlus 5 and 5T. Now the HydrogenOS 9.0 surfaced online and that indicating the OnePlus 5T global variant will receive the OxygenOS Android 9 Pie update soon. Meanwhile, OnePlus 3 and 3T are also in the list of getting Android Pie update. But these two devices could take some time to receive the latest version of Android.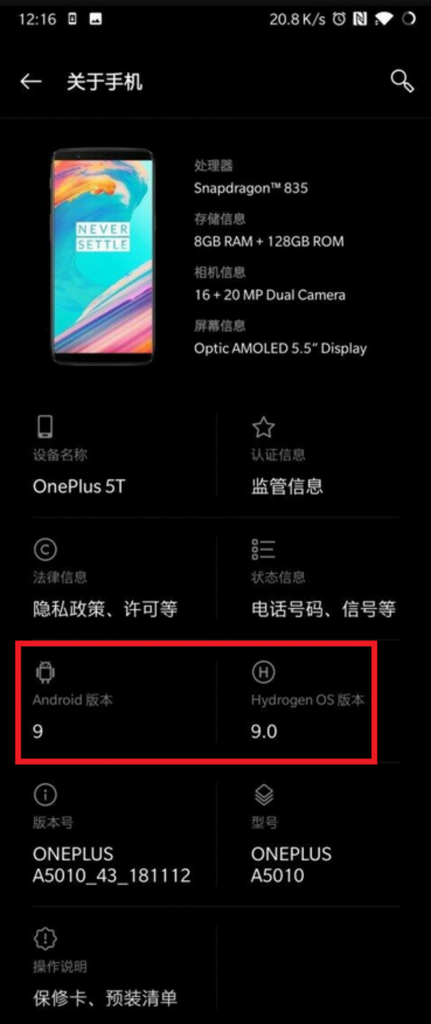 HydrogenOS 9.0 for OnePlus 5T based on Android 9 Pie changelog includes the following features and improvements:
New OnePlus redesigned UI.
New background controls for a smoother experience.
Full-screen swipe gesture controls for the OnePlus 5T.
SMS verification code to open the display.
The strange number identification function is optimized.
Dual card mode is added to set the default card for a single contact or group.
Weather apps and call UI are optimized.
Must Read: Android P is coming to OnePlus 3 and 3T instead of Android 8.1 Oreo