Apple is reportedly offering 200GB free iCloud storage to iOS users as a promotional scheme. However, the promotional offer doesn't seem to be announced officially by Apple yet. According to the reports, Apple will offer free 200GB iCloud storage to iOS users for the limited time of 2 months and after two months it will be charged $2.99 (Rs.209 approx). If any user wants to discontinue the offer once the offer period ends, users will have to manually discontinue the additional iCloud storage plan.
Apple Will Offer 200GB iCloud Storage To New iOS Users
Apple is expected to launch the new 2018 iPhone edition smartphones within a few months. As per the screenshot was taken by The Verge, this offer will be available after the iPhone 2018 edition users. The leaked reports mentioned that Apple will introduce three iPhone variants in this year and could be named as iPhone XS, iPhone XS Plus, and iPhone 2018 edition.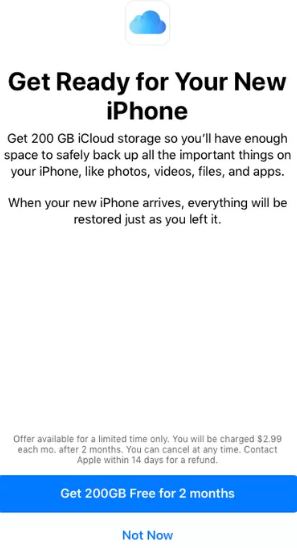 Apple currently offering 5GB of free iCloud storage as default to all iOS users. The 50GB of base plan offers $0.99 (Rs.70 approx), 200GB storage offers $2.99 (Rs.209 approx), and the highest 2TB of storage at a price of $9.99 (Rs.700 approx). It seems that the free offers will not be applicable for an existing iCloud paid subscriber. It will only be available for new iOS users with upcoming iPhone 2018 series. The leaked reports also expecting that the new iPhone 2018 variants will launch on September this year.
---
Read More: