Samsung has certainly come a long way in the last couple of years. Today, it is considered one of the most popular and reliable smartphone makers in the world. While Samsung phones are quite secure, they can also suffer from unexpected data loss, just like any other smartphone. If the photos stored on your Samsung device are also deleted or lost, then don't worry – we have an easy fix for you. Read on and learn how to perform Samsung photo recovery in a quick and foolproof manner.
There could be different reasons for using a Samsung photo recovery tool. In most of the cases, users suffer from these common problems.
The photo on their Samsung phone gets deleted unexpectedly due to a malware or virus attack.
The phone stops working due to corrupt storage, deleting its photos automatically.
Sometimes, users accidentally delete their photos as well.
The inaccessibility of storage can make it look like as if the photos are deleted.
If the device is physically broken, damaged, or dropped in water, then it can also wipe your phone's data.
An accidental factory reset or restoring a previous backup can also cause this problem.
Any software issue like the device getting stuck in restart mode, a software update gone wrong, etc. can also delete your data.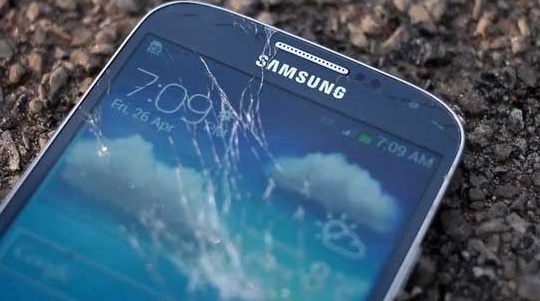 Is it possible to recover deleted data from a Samsung phone?
As you know, there could be different reasons for an unexpected data loss on your device. Though, in most of these conditions, we can still recover the deleted content. In order to understand this, you need to know how smartphones or computers store data. There is a memory allocation table in the system that points to the address where the actual data is stored.
Therefore, when something is deleted from our device, the data itself isn't lost. Only the pointer that stores its memory gets free for further allocation. Also, the storage allocated to its data later becomes accessible to be used again. Thus, by acting in a timely manner, we can recover the deleted content on any device.
Things to know before using a Samsung photo recovery
Great! You are almost ready now. Simply consider these expert suggestions to make sure you are able to retrieve maximum content in less time.
As soon as your data gets deleted from your device, you should resist using it. Turn off Wifi, network data, and even Bluetooth in order to keep your phone idle.
Don't restart your device over and over again. Also, don't store any other kind of content or use too many apps on the device. This will make sure that your deleted content won't be overwritten.
Only use a reliable Samsung photo recovery tool. For instance, we consider using dr.fone – Recover (Android Data Recovery) as it is one of the best recovery tools out there.
In order to use a data recovery tool, you need to turn on the option of USB debugging on your device. To do this, go to your device Settings > About Phone and tap the "Build Number" 7 consecutive times. This will unlock the developer options on the phone. Now, visit its Settings > Developer Options and turn on "USB Debugging".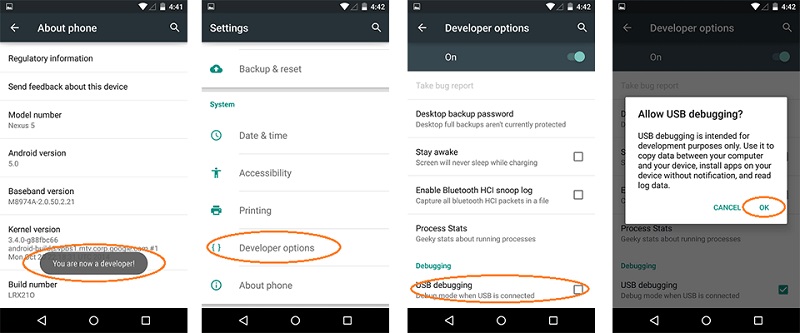 dr.fone – Recover (Android Data Recovery): The Best Data Recovery Tool
Out of all the data recovery software, dr.fone – Recover (Android Data Recovery) is certainly the most reliable tool. It is the world's first data recovery software for Android phones and tablets. Therefore, you can use it to perform a complete Samsung photo recovery as well. With just one click, you can retrieve the deleted or lost photos from your Samsung phone. A part of the dr.fone toolkit, it is extremely easy to use and is known for its high success rate in the industry.
The application can recover your photos deleted under different scenarios (accidental deletion, loss due to a malware attack, software related issue, and more).
You can perform a data recovery operation on your phone's internal store or the connected SD card.
The tool is also known to retrieve deleted or inaccessible content from a damaged device as well.
It is extremely easy to use as it has a sleek and user-friendly interface.
Besides photos, you can also recover other data files as well, such as contacts, music, videos, messages, important documents, and more.
No need to root the device in order to use this data recovery tool.
It is compatible with more than 6000 Android devices, including all the major Samsung phones.
How to restore photos using dr.fone – Recover?
As you can see, it is quite easy to use dr.fone – Recover (Android Data Recovery) to restore your deleted or lost content. Its desktop application is available for Windows PC and Mac. The tool comes with a free trial version as well. You can simply visit its official website and download it on your system. Afterward, you can follow these simple steps to perform Samsung photo recovery.
To start with, launch the dr.fone toolkit on your system. From its welcome screen, go to the "Recover" module.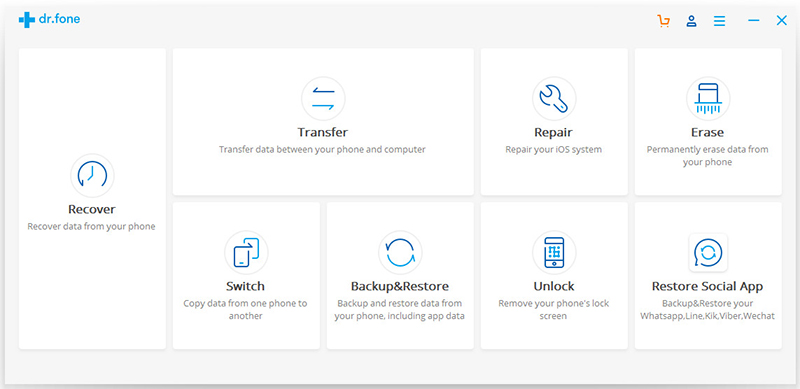 Connect your Android device to the system and make sure that the option of "USB Debugging" is enabled. From the left panel, click on "Recover phone data". There are other options to recover data from an SD card or a broken phone as well.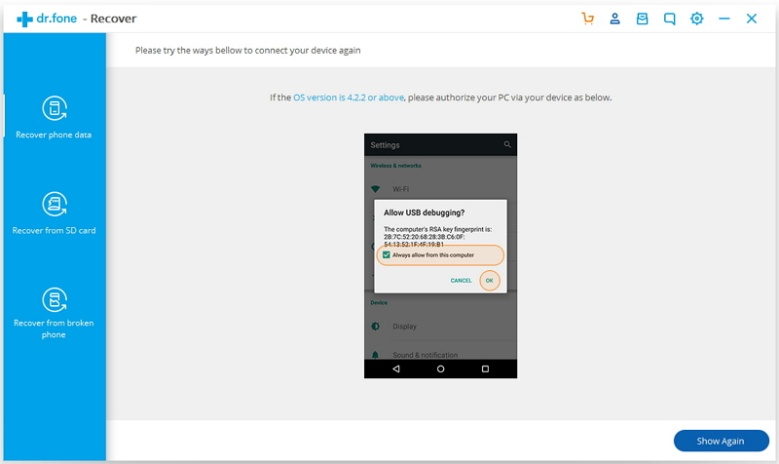 Now, you need to select the type of data you wish to recover. To scan photos, make sure the option for "Gallery" is checked. You can select any other or all data types from here too.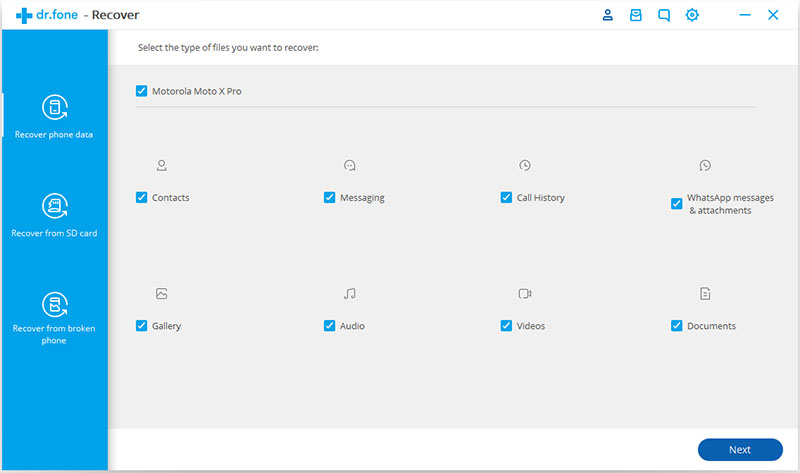 In order to proceed and save your time, you can even select if you wish to only scan for the deleted content or scan the entire device. After making the appropriate selection, click on the "Next" button.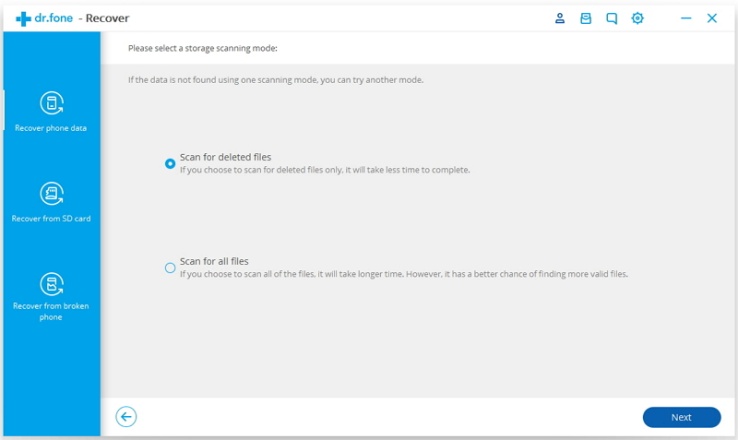 Sit back and wait for a while as the application would automatically scan your Samsung phone for any lost or inaccessible data. Make sure that the device is connected to the system till the process is completed.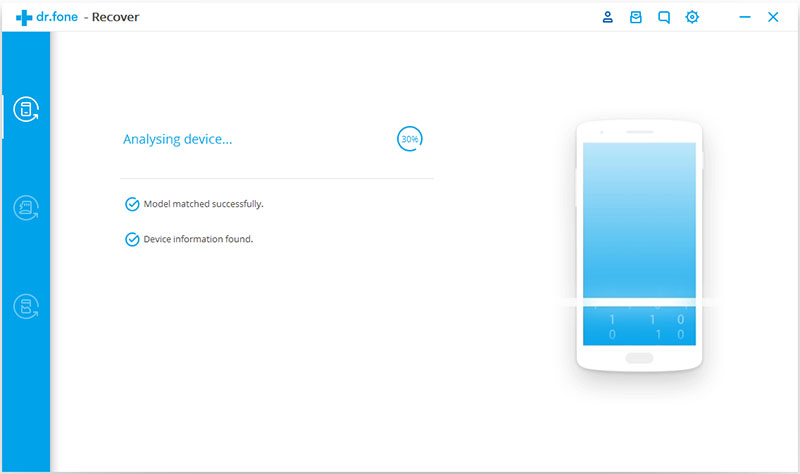 That's it! Once the process is successfully completed, the retrieved content will be displayed. All the retrieved data will be well-segregated into different categories.
To restore your photos, just visit the "Gallery" tab. From here, you can preview all the retrieve photos. Just select the photos you wish to save and click on the "Recover" button.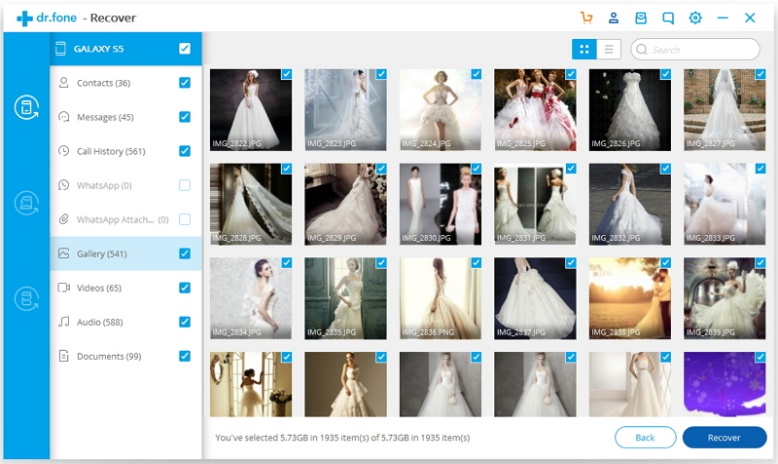 In this way, you would be able to perform Samsung photo recovery without any trouble. All the saved photos can be accessed the usual way on your computer. Later, you can transfer them to your phone as well. Though, if you don't want to lose your photos, then make sure that you maintain its backup beforehand. Use a data backup tool in order to maintain its second copy and install dr.fone – Recover on your system to restore the deleted content on your phone anytime you want.