Smartphones in 2017 have grown large in size and the definition of the term 'compact' has been re-written. By today's terms, a smartphone sporting a 5.5-inch display is said to be compact while the same size was termed large in 2016. This is heavily due to the bezel-less display trend that has made an inception in the smartphone industry.
The Xiaomi Mi Max series has produced phablet smartphones that sport large displays. And if the latest leak is true, this might be true for the Mi Max 3 as well. The Mi Max 3 will launch in Q1 2018.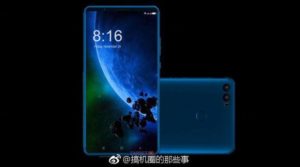 The latest leak from China has reported that the Mi Max 3 will feature a massive 7-inch display. This is ridiculous as some tablets currently sport 7.5 inch displays. However, the form factor will be relatively small, thanks to the high screen to body ratio. The report claims that the chassis will remain the same and the screen will now adopt the 18:9 aspect ratio.
The report claims that there may be two variants of the Mi Max 3, one powered by the Snapdragon 660 SoC and the other powered by the Snapdragon 630 SoC. We think that this is unlikely and we expect the company to go with the Snapdragon 660 chipset.
The phablet smartphone may finally bring dual camera's too! The Mi Max 3 is rumoured to bring a dual camera setup at the rear. However, there is no detail as to either the setup will include a telephoto lens or be a Monochrome + RGB implementation.
Obviously as the screen has grown in size, the battery grows in size too and the report claims that the smartphone will pack a 5,500 mAh cell. There will be support for quick charge 3.0.
With phone screens growing so rapidly in size, it is safe to say that the market for tablets is rapidly diminishing. Stay tuned for more news on the Mi Max 3.