Update: OxygenOS 4.5.8 is now available For OnePlus 5 With Hotfix and we have the direct links to download the Firmware Update.
According to the official OnePlus website, OnePlus is withdrawing the latest Oxygen OS 4.5.7 OTA update. This is due to the fact that some of the forum users who have updated their OnePlus 5 with OxygenOS 4.5.7 found some bugs. The major bug for which OnePlus is withdrawing is referred to as gaming shutter issue according to the official announcement. Instead, OnePlus is rolling out the next updated version Oxygen OS 4.5.8 across the globe. If you have received OTA update for the previous version Oxygen OS 4.5.7, do not update it and if you have already updated, it is time to re-update with Oxygen OS 4.5.8.
The previous OxygenOS 4.5.7 offered many eye-catching and useful features and optimizations with security patch and hence, many users already have updated it. But it had one critical gaming shutter issue that is highlighted by various OnePlus 5 advanced users across the globe. The newer version solves the issue perfectly and it has also come with several advanced features that OnePlus 5 users will like instantly and make the update.
Must Read: Top 5 Best Custom ROMs For OnePlus 5 | Android 7.1.1 Nougat and Above
Delay In Receiving OxygenOS 4.5.8 Update:
It is reported that there could be some delay in releasing the OTA update of Oxygen 4.5.8 as there are many updates coming out for OnePlus 3 and 3T users like Oxygen Open Beta 21 for OnePlus 3 and Oxygen Beta 12 for OnePlus 3T users. Furthermore, OnePlus developer team is scheduled to release OnePlus Launcher 2.1.5 for OnePlus 3 users. Therefore, the only option you have right now is to download Oxygen OS 4.5.8 Hotflix OTA update with all the new features.
What Are The Changes Expected in OxygenOS 4.5.8?
There would some exclusive new fonts and EIS for 4K video recording. The latest security patch level will be available. There would also be an update to the latest GMS package. In terms of optimization, there would be a massive improvement for Wi-Fi connectivity and standby battery life.
Among the fixes, the gaming shutter issue is solved. Along with that, there were complaints of sound leaks through the speakers even with the earphones plugged in. Some sound channels were missing while recording videos and all these are completely fixed.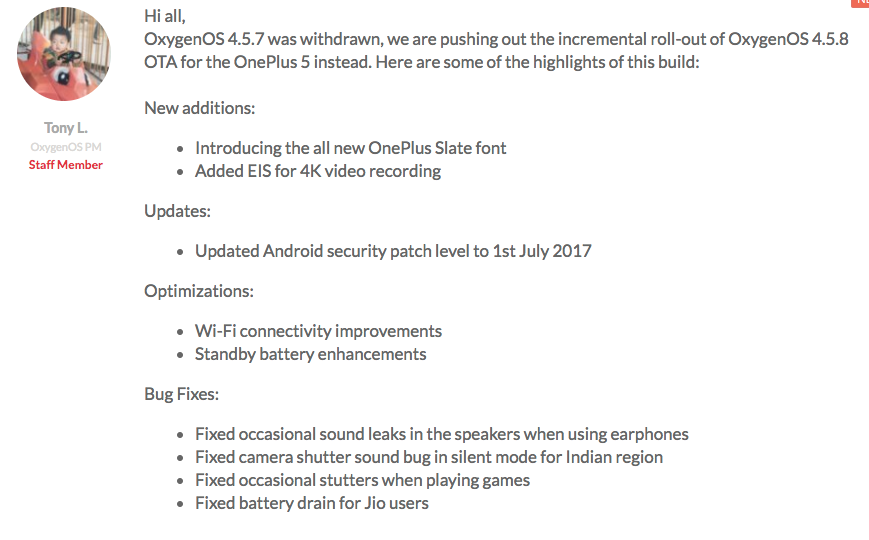 Where and How To Download OnePlus 5 Oxygen OS 4.5.8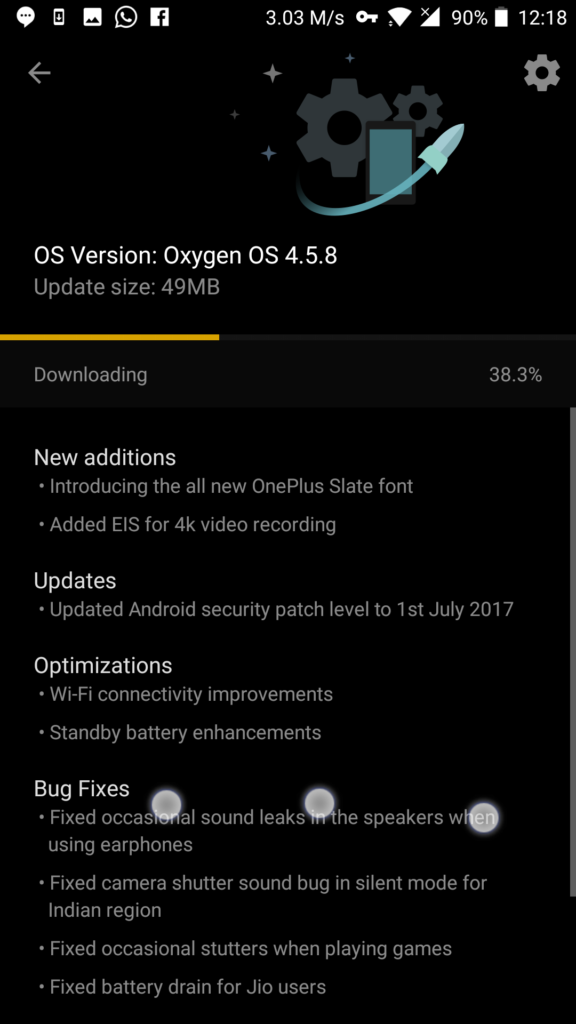 Download OxygenOS 4.5.8 For OnePlus 5
http://downloads.oneplus.net/oneplus-5/oneplus_5_oxygenos_4.5.8/
Follow the guide to install OxygenOS 4.5.8 On OnePlus 5 > How To Flash Stock OnePlus Firmware/ROM (Step-By-Step Guide)
You can even use VPN services to download the update once it released.Make sure that your OnePlus 5 is running stock firmware of Oxygen OS 4.5.5 or above.
Download VPN App Opera VPN or any other VPN.Open it and change the location to Canada or Germany as these are the countries that have already received the OTA update.
Go to Settings from your phone and then go to System Updates. Check for OTA Update there.
Download OxygenOS 4.5.8 OTA update from the list and install it via stock recovery. You can also use TWRP recovery if you have it installed.