After numerous teases and leaks, we finally have our look at the OnePlus 6T, the latest and greatest from the Chinese smartphone giant.
Let's have a rundown of the specs of the newly launched device.
Chip, Memory, and Storage
Powering the device are the usual for 2018 flagship SoC, the octa-core Snapdragon 845 SoC, and it comes bundled with 6GB/ 8GB of memory and 128GB/ 256GB of storage.
Camera
The 6T come with the same pack of camera sensors as the OnePlus 6. It has a combination of 16MP+20MP sensors on the back. The camera has support for 480fps slo-mo, which is so 2017s. The cameras make use of pixel binning technology in order to improve the quality of low light quality. The primary camera has support for OIS also. OnePlus has added smart HDR also, which they claim can help I further improvement of low light photography also. The company has stated that the Nightscape, the smart HDR for night mode as the company is calling it, would be arriving on the OnePlus 6 also sometime this week.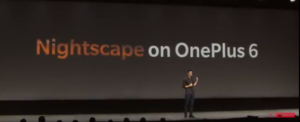 Display
The screen has seen a bump-on from the 6.28 inch of the OnePlus 6. The OnePlus 6T has a 6.4- inch Super AMOLED display with a resolution of 2340×1080, as compared to the 6's 2280×1080.
The increase in screen real estate is also owing to the inclusion of a waterdrop notch, as compared to a much flatter one in the OnePlus 6's.
Battery
The battery has been bumped up to 3700 mAh also, a significant improvement over the 6's 3430 mAh, which also happened to the largest that OnePlus has ever put in a smartphone.
UD Fingerprint sensor
The USP of the smartphone is the inclusion of an Under-display fingerprint sensor, something that OnePlus claims are the fastest in the industry and on what they've been working on since the OnePlus 5T, though I highly doubt that claim.
Disappointments
A major disappointment with the OnePlus 6T is the omission of a headphone jack for no apparent reason, as the device has neither gained the waterproofing feature also, a headphone jack removal excuse that quite a lot of manufacturers have given worldwide.
</p>