OnePlus has just recently launched the OnePlus 5 which is the flagship smartphone from the company for this year after the OnePlus 3/T was launched last year. The OnePlus 5 has been already out and the sale of the smartphone will start in the US on June 27 for $479 and $539 for 6GB and 8GB variants respectively. The smartphone will cost Rs. 32,999 for 6GB and Rs. 37,999 for 8GB variant respectively in the Indian markets. The sales of the smartphone were first held in India on June 22 on the launch day on Amazon.in and now the smartphone will be available once again on June 27 and June 28.
However, as the OnePlus 5 has gotten into the hands of potential customers, we are seeing some problems on the phone. There has been a thread that has been started on the OnePlus forums where a user of the OnePlus 5 smartphone has been complaining about the battery drain issue on the recently bought OnePlus 5 smartphone. The user named Rituraj Mishra says that the battery has been draining after the latest update which came to the OnePlus 5. Now, if we take a look at the evidence he has put on the forum like screenshots of the battery page of his phone's settings we can see that the battery is indeed draining quite fast.
Must Read: How To Fix OnePlus 5 Battery Drain and Overheating Issue
However, some of the members of the OnePlus forum have advised the user to take a bit of the time on the newly bought phone as it is well known that any newly bought smartphone should be given at least 3 charging cycles to make the battery fully stable and test its performance. Also, some of the users on the OnePlus forum who own a OnePlus 5 have also reported that they have not faced any such issues on their OnePlus 5 smartphone. Also, make sure that if you are facing such battery drain issues, you should clear your device's cache as well as memory to solve the issue.
Update: July 26, 2017 – One of our readers named Arushi Srivastava is also facing similar battery drain issue.Here what she said
I hardly have any apps running on my phone.
Before I went to sleep it had like 47% battery in a matter of 4 hours it went to zero and phone switched off. Unable to attach a screenshot here.
Here is the screenshot of her OnePlus battery usage: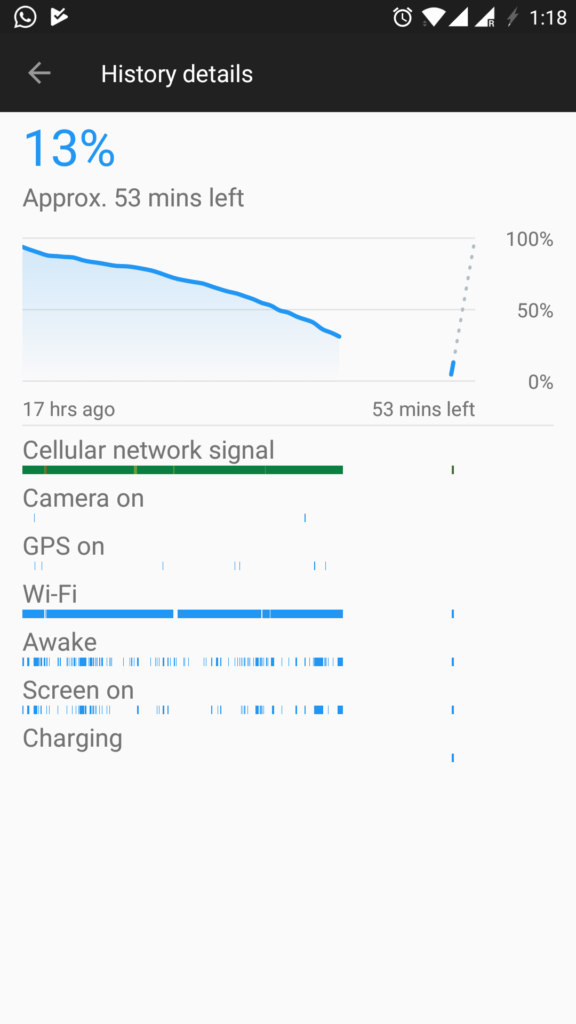 You can see the that the estimated time to charge back was an hour instead of half an hour.We are hoping that the Oneplus Software development team will roll out an update to fix the issue as soon as possible.