The yoga guru Baba Ramdev's Patanjali has now released an Instant Messaging app of its own, which the company is placing as a swadeshi application to counter the growth of WhatsApp.
The application called, Kimbho is now active on the play store and as of writing this article was trending on #6 on the communications section of the Google Play Store and has a rating of 4.4 stars and downloads in the range of 5 thousand.
An iOS version of the app has also been launched.
Reading the application launch, a spokesperson from Patanjali, SK Tijarawala tweeted, "Now Bharat will speak. After launching SIM cards, Baba Ramdev has launched a new messaging application called Kimbho. Now Whats App will be given competition. Our own #SwadeshiMessagingplatform. Download it directly from Google Play store".
Kimbho has all the features of a conventional messaging app. It caters to the needs of private and group chats and offers free voice and video call also. Apart from this, it has the ability to share photos, stickers, location, quickies, something much similar to Google's smart replies, though with less personalization and contextual ability, GIFs, videos, and stickers. There is an option to share doodles also, where you can scribble something and share it, much akin to what Samsung has to offer. The application has been given the tagline of 'Ab India Bolega'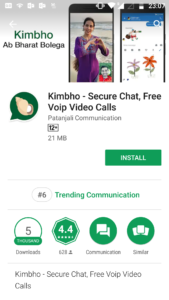 The application comes just days after the homegrown FMCG giant, announced its entry into the telecom sector. In a tie-up with BSNL, Patanjali has unveiled the Swadeshi Samriddhi SIM cards.
The service is currently on a trial run, restricted only to Patanjali employees but it would get a wider launch soon, before the end of this year.
The SIM has a base plan for Rs. 1444, which gives the user unlimited calls, 2GB of data pack and 100 SMSes. It also comes with life and medical insurance covers and the users would be granted a discount of 10 percent on Patanjali products.
The SIM cards can be procured at any BSNL center countrywide.
The application can be downloaded from the Google Play Store. And the iOS version can be downloaded here from the App Store.