If you own Samsung Galaxy S8, you must be aware of the fact that it has AMOLED screen which is the highly battery efficient when you use black backgrounds and UI elements. But contrary to that, Samsung's Android skin called TouchWiz uses bright and colourful default theme which makes the battery saving trick absolutely void. It is definitely pretty but when you have an extraordinary feature to save your battery and you do not use the feature to its fullest potential, you are making a crime. The bad news is you cannot get rid of the TouchWiz without rooting and using a custom ROM. The good news is that you can still make the best use of AMOLED screen by using a system-wide dark theme on your Galaxy S8 without rooting.
RRO Layers Themes have released some awesome overlay themes for Samsung Galaxy S8. One of them is a dark theme which will not only be soothing your eyes but saving your battery like never before.
Steps To Install The System-Wide Dark Theme On Galaxy S8 Without Rooting
Download and install Cameron Bunch's Material Black theme which is inspired by Google's Material Design and this theme blacks out as many UI elements as possible. So, the pixels will be completely off in those black areas on the AMOLED screen and the power will be conserved.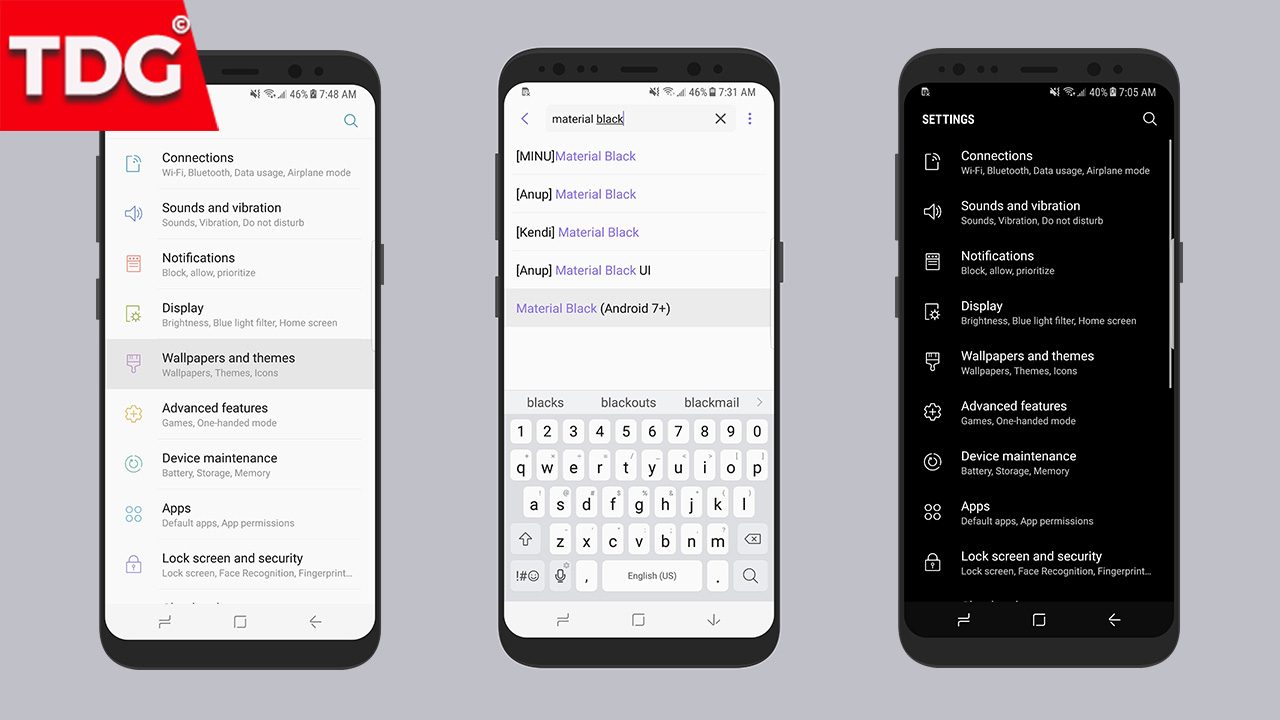 Step 1. Go to Wallpapers and Themes option from the Settings of your Samsung Galaxy S8 and then select Themes from the context bar. Tap on the Search icon on the top-right corner and type Material Black.
Step 2. From the search result, select Material Black(Android 7+) and tap on Download button. Once it is done, tap on Apply button and Apply button again in the next prompt message for confirmation. Once it is applied, you will notice that the wallpapers and several other UI elements like icons have turned black and they will look stunning. The notifications, however, will stay in white colour.
Step 3. Now, you have to download and install two different APKs – Black Framework for turning popups and confirmation message boxes into black and Black Notifications Only for turning notification to black color. This will make the theme look more authentic. You have to install the APKs from unknown external sources so keep the option enabled in your Samsung Galaxy S8.
After installation of both the APKs, give your smartphone a reboot and amaze yourself by looking at the system-wide dark theme on your Samsung Galaxy S8 without even rooting.